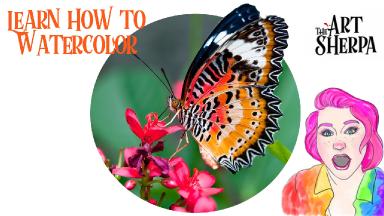 This is a Free full video where you Learn how to paint a flower and butterfly . This is a Week of Butterfly Art and we kick it off with this beauty
Any level of student is welcome. No drawing skill required. Any age of student from anywhere in the world is welcome. I recommend Materials but you can use what you have.
( YOU CAN USE ANY WATERCOLOR YOU HAVE) yes even crayola. If you need them we do have art materials in the store.
Sennelier Aquarelle Watercolor set
1 Yellow
2 French Vermillion
3 Alizarin Crimson
4 Carmine
5 Diox Purple
6 UM Blue Deep
B1 Phthalo Blue
B2 Forest Green
B3 Green light
B4 Burnt Sienna
B5 Paynes Gray
B6 Warm Sepia
9x12 or larger watercolor paper 140 lb
Edding 1880 drawliner .2 and .7
Template from
theartsherpa.com
website or The Art Sherpa Official Facebook page
Pencil
Past live streams are here
The only links you should use are these as there are some fake ones that come up. AT no point will the classes cost any money. No subscription or off site viewing. This is always Free and on Facebook or my free website
www.theartsherpa.com
Tags