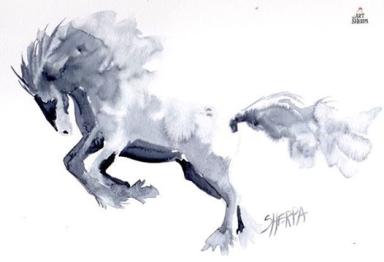 Traceables:
Project Description:
How to paint a watercolor running horse with one color of paint!! 
Materials:
Below is a list of recommended materials. This includes the 'Amazon Affiliate' program, and you support The Art Sherpa when using it. It is linked here to make things convienient and easy for you.
Paint Colors
Holbein Watercolor Burnt Umber
Paint Brushes
Ultra Mini™ Shader Size 10/0
Other Materials
Arteza watercolor pencils
Artist Tape
Brush soap
Chalk
Lavender Spike Oil Brush Soap
Paint Puck
Paper Peel Paint Pallet
Saral Paper
Sharpener
Tracing Paper 9x12
T Square Ruler
Best European Easel *OS3
Jack Richeson La Vara Easel, Table Top
How to Mix Skin color
Victoria Finlay History of Color
Special Notes:
For Brush Care use, cleaning and for a list of Retailers that carry them GO TO the links below to find out more about them and where to buy The Art Sherpa®
http://www.silverbrush.com/the-art-sherpareg.html
Find your favorite or closest retailer here
http://www.silverbrush.com/where-to-buy1.html
Go online
http://www.silverbrush.com/online-resellers.html
We love to see pictures of you with your brushes. You can share your new treasures with us online on any social website
#ArtSherpaBrushes
#silverbrushlimited
Want to see something? Just comment! Tell me what you'd like to paint, or what you want to know about art. This is YOUR art journey. Open your heart and access your art.
HEART MAIL: The Art Sherpa 9490 fm 1960 RD W suite 200 Humble TX 77338
Artwork is the property of Cinnamon Cooney and The Art Sherpa LLC. and is intended for the personal enjoyment of the student. You may sell, donate or Gift a painting you do following one of my lessons in a private setting. If a paintings you make of my original design are offered for sale in a retail setting of any kind ( this includes online) , please attribute 'Original design by Cinnamon Cooney, The Art Sherpa. www.theartsherpa.com' Please, create no prints or mechanical reproductions of your paintings of my original design. This is a violation of my copyright and use policy.
If you'd like to share our tutorial/original painting design with a church group, skilled nursing facility or other nonprofit interest, do get in touch with Labs we can help you
For commercial use or licensing in the painting party, social painting, or other venues; please visit our business website:
https://theartsherpa.com/labs
How to paint a watercolor running horse with one color of paint!! 
Paynes grey watercolor Qor 
#8 round Black velvet by Silver Brush Limited
140 lb paper
Tags