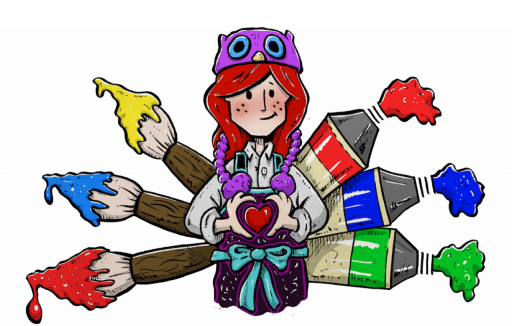 Stats
Member Since March 10, 2016
Love Given: 0
Posts: 3
Winners List for Giveaways

2021-09-14
By: TheArtSherpa
Posted in: Giveaway
In an effort to make sure that everyone has an equal opportunity to claim prizes and giveaways on The Art Sherpa Tutorials, we are creating this list, which we will keep updated.  Once the list has been provided to the community on either the theartsherpa.com Blog or via email to our community list, winners will have 10 days  to claim their prize.
Prints and physical giveaways that must be mailed are mailed at no cost to the winner if the winner lives in the contiguous United States.  If you are an international winner, you will be given an option to pay the difference or forfeit the prize.  We will honor those tutorials where we said we would ship up to and including a $35 postage fee, but after those prizes are claimed or rewarded to other persons, we will no longer make that offer. This only because shipping costs have skyrocketed. 
If you see your name on this list, and you wish to claim your prize, you MUST create a help ticket be sending an email to support@theartsherpa.com and with the subject line of "I WON A PRIZE".  Your email must include your name, complete mailing address, zip code, and your email if you want to be provided with a tracking number when it is mailed.
You have one week, 7 days, to claim your prize after this notice is provided to the community or on the blog.
(Insert other notices here via tables and this will move down but not be erased)
| | | | |
| --- | --- | --- | --- |
| rize | Tutorial | YT | FB |
| Patron Print | Mountain Lion | Karen B. Istre | |
| Art Sherpa Pins | Blossoms By The Bay Hydrangeas | Jackie Botala | |
| Art Sherpa Pins | Fall Daisy | Anne Tolson | Jennifer Hunter |
| Month of Patronage | Calming Beauty - Sky Grass | DeeDee | Colleen DeWall |
| Month of Patronage | Celestial Waltz - Northern Lights | Annie Oakley | Kristy Elizabeth Pool |
| Month of Patronage | Lean On Me - Happy Couple | Christine Sivewright | |
| Patron Print | Lean On Me - Happy Couple | Missy Tami | |
| Month of Patronage | Red Fox Watercolor | Jeanni Wilson | Jaye L. Purvis |
| Month of Patronage | Rainbow Keyhole Into The Forever Forest - Misty Autumn Fall Forest Path | Ileana Kreus | Alice McBride |
| Month of Patronage | Landscape Abstract Watercolor | Leona | No Hashtag Comments |
| Month of Patronage | Her Moment - Lady in White Dress | Anessa Harris | Karen Hoopengardner Acklin |
| Month of Patronage | Berry Creek - Sunset Stream Landscape | Kim Zook | Rasha Shehade |
| Month of Patronage | Smoke on The Water, Fire In The Sky - Sunset Misty Landscape | Sheila Harvey | No Hashtag Comments |
| Grumpy Owl Print | Collaboration Bird-A-Thon September | Annette Keys | |
| Month of Patronage | Raindrops on Fall Leaf Watercolor | Animal Antics Pruett | Facebook Shut Down For Day |
| Patron Print  | | | Niki Martin |
| | | | |
Here's a list of all the prizes we have awarded so far:
| | |
| --- | --- |
| Prizes | Winners |
| Art Sherpa Pins | Jenna Alford Walter, Debra Tribell, Tammy Pickett, Jade Kwong, Rebecca Smith Hoffman, Jill Evans, Jennie Determan, Heidi Roy and Sharon O'Brien. |
| BAQ Prints | Rebecca Hobbs Clowers, Mae Kelly, and Donna Mobley. |
| Month of Patronage | Jennifer Caudle, Bella Mirza, Lilly Cleveland |
| Tutorial Prints | Cornelia Gerarda Dam |
| Collaborative Bird Hop August Prints | Raheel Shaw, Rebecca Clowers, Kelly Davis |
| Collaborative Bird Hop September Prints | Debbie Luscombe, Christie Jackson, Heather Campbell, Elaine Moore, Shellie Estes |
| | |
| | |
| | |
| | | | | | |
| --- | --- | --- | --- | --- | --- |
| Date of Notice | Prize | Tutorial Name | Media Source | Winner Name | Claimed  |
| 9-12 | Print | Mr. Rogers Red Cardinal | YT | Raheel Shaw | Y |
| | Print | George Goldfinch | YT | Rebecca Hobbs Clowers | Y |
| | Print | Birds of a Feather Hummingbird | YT | Kelly Davis | Y |
| | Art Sherpa Pins | Blossoms By The Bay Hydrangeas | YouTube ($35) | Jackie Botala | |
| | Print | Cleansing The Soul | YouTube ($35) | CorrieCGD | Y |
| | Art Sherpa Pins | Watercolor Castle | Facebook ($35) | Heidi Roy | Y |
| | Print | BAQ Pugkins & Spice | YouTube ($35) | Mae Supernatural Investigator of Minnesota | Y |
| | Print | BAQ Pugkins & Spice | YouTube ($35) | Rebecca Hobbs Clowers | Y |
| | Print | BAQ PUGKINS & Spice | Facebook ($35) | Donna Faye Coley Mobley | Y |
| | Art Sherpa Pins | Autumn Candle | YouTube | Sharon O'Brien | Y |
| | Art Sherpa Pins | Autumn Candle | Facebook ($35) | Crystal Blake | |
| | Art Sherpa Pins | No Brainer Scarecrow | YouTube | Jenna Alford Walter | Y |
| | Art Sherpa Pins | Autumn Trees | YouTube | Deb b | Y |
| | Art Sherpa Pins | Autumn Trees | Facebook | Tammy Perkins Guffey Pickett | Y |
| | Art Sherpa Pins | Village Cliff Watercolor | YouTube  | Jade Kwong | Y |
| | Art Sherpa Pins | Village Cliff Watercolor | Facebook | Rebecca Smith Hoffman | Y |
| | Art Sherpa Pins | Watercolor Castle | YouTube | West Pest | Y |
| | Art Sherpa Pins | Cleansing The Soul | YouTube | Rebecca Hobbs Clowers | Y |
| | | | | | |
| --- | --- | --- | --- | --- | --- |
| | Art Sherpa Pins | Fall Daisy | YT | Anne Tolson | |
| | Art Sherpa Pins | Fall Daisy | FB | Jennifer Hunter | |
| | Month Patronage | Mountain Lion | YT | Jennifer Caudle | Y |
| | Month Patronage | Mountain Lion | FB | Lilly Cleveland | |
| | Print | Mountain Lion | Patron | Karen B. Istre | |
| | Month Patronage | Grounded - Golden Birch Trees | YT | Bella Mirza | Y  |
| | Art Sherpa Pins | Grounded | FB | Jennie Determan | Y  |
| | | | | | |
| --- | --- | --- | --- | --- | --- |
| | Print | Angry Bird Hop | YT |  Christie Jackson  | Y |
| | Print | Angry Bird Hop | FB | Debbie Luscombe | Y |
| | Print | Grumpy Owl | YT | Annette Keys | |
| | Print | Grumpy Owl | FB | Heather Campbell  | Y |
| | Print | BJ and the Bath | YT | Shellie Belle  | Y |
| | Print | BJ and the Bath | FB |  Elaine MOORE | Y |
| | Month Patronage | Celestial Waltz | YT | Annie Oakley | |
| | Month Patronage | Celestial Waltz | FB | Kristy Elizabeth Pool | |
| | Month Patronage | Lean On Me | YT | Christina Sivewright | |
| | Month Patronage | Lean On Me | FB | Missy Tami | |
| | Month Patronage | Calming Beauty | YT | DEE DEE | |
| | Month Patronage | Calming Beauty | FB | Colleen DeWall | |
| | | | | | |
| | | | | | |
Tags