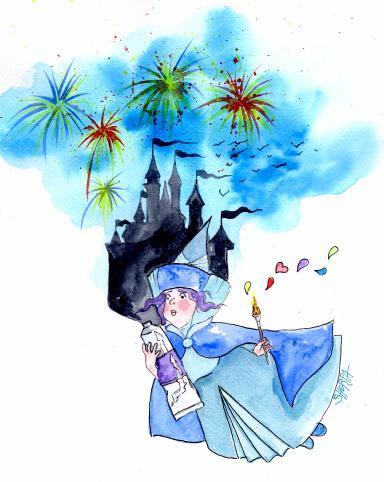 Free full video Learn how to paint the Fairy Art Mother. Last week I asked you guys what Disney Character I would be and the top Results were Fairy Godmother from Sleeping Beauty.
Written out instructions Step by step PDF only for patrons - here
Pure , Passionate , Precious , and Power
Any level of student is welcome. No drawing skill required. Any age of student from anywhere in the world is welcome. I recommend Materials but you can use what you have.
( YOU CAN USE ANY WATERCOLOR YOU HAVE) yes even crayola. If you need them we do have art materials in the store.
Sennelier Aquarelle Watercolor set
1 Yellow
2 French Vermylen
3 ACrimson
4 Carmine
5 Diox Purple
6 UM Blue Deep
B1 Phthalo Blue
B2 Forest Green
B3 Green light
B4 Burnt Sienna
B5 Paynes Gray
B6 Warm Sepia
9x12 or larger watercolor paper 140 lb
Chewbacca Water Bowl borrowed from the collection of Linda Cooney
Edding 1880 drawliner .2 and .7
Merry Weather Fairy Godmother
Raphael Soft Aqua
Jasper Stardust Watercolor Brush
Template from
theartsherpa.com
website or The Art Sherpa Official Facebook page
Pencil
Past live streams are here
The only links you should use are these as there are some fake ones that come up. AT no point will the classes cost any money. No subscription or off site viewing. This is always Free and on Facebook or my free website
www.theartsherpa.com
Tags