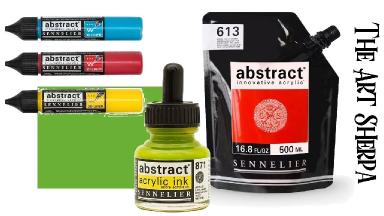 The complete and total Abstract paint Review with new 2021 colors lines tips and inks. Is this the paint of the future ? I will tell you the TRUTH Live streaming with The Art Sherpa
Abstract Time Stamps
00:00  Intro
01:25  Message from Andrew Cook from Savoir Faire
02:35  Why I use Abstract Paint Products
03:30  Close up of past finished painting
07:20  Abstract Pouches, Caps, and Sizes
14:10  Abstract Acrylic Ink
16:55  Abstract Fluid Acrylic Paint
17:15  Soft Body VS Heavy Body
21:50  EXTREME CLOSE UP
 BEWARE!!  ADDICTIVE TO WATCH
22:30  More Abstract Acrylic Ink w/ brush
25:20  Abstract Acrylic Pen Liners
28:08  Abstract Acrylic Heavy Body w/ Palate knife
32:35  Abstract Paint Tips for pouches
37:10  Acrylic Ink over peaks of Heavy Body Paint 
39:20 Thank You Kings Framing and Art in Canada
40:00  Thank You Raw Art Materials in Los Angeles
43:50  Does this work with professional paint lines
45:20  Smooshing Paint for fun
46:44  Iridescent Copper Abstract Heavy Body 
48:10  How The Art Sherpa Discovered Abstract Paint Products 
49:09  Metallic Gold Abstract Pen Liner
50:40  Fun with Ink and Liner Pen, EXTREME ZOOM!
52:50  Playing with more Ink
54:25  The Art Sherpa Experience with Quality
55:47  Abstract Heavy Body Neon
57:10  Glossy Finish or Matte Finish
57:30  Neon Abstract Pen Liner
59:40  https://theartsherpa.com/theartsherpacommunity/blog/280/abstract-paint-by-sennelier
1:01:09  Why Did the Art Sherpa Do this Live
1:06:25  Thank You To our Co-Hosts Pierre and Andrew at Savoir Faire
THE COMPLETE AND TOTAL ABSTRACT PAINT REVIEW
2021 COLORS, LINERS, TIPS & LINKS
LIVE STREAMING WITH THE ART SHERPA
FEBRUARY 4, 2021
FEATURED GUEST Andrew Cook of Savoir-Faire
Cinnamon Cooney, The Art Sherpa
This review started with a taped introduction from Andrew Cook, who is a materials expert with Savoir-Faire.  After the introduction, both Andrew and Pierre Geduitti, owner of Savoir-Faire, remained in the chat to answer community questions.
Why do I use the Sennelier line of Abstract Acrylic Paints?
You guys know me, I don't endorse a product unless I have tried the product and determined that I am willing to recommend it to my community.  Abstract is the best "student" acrylic paint that I have ever used, and I have been using it for a number of years.  I choose to personally use it in many of my tutorials, and in all of my 2020 Acrylic Paintings last year.  While it may be somewhat less pigmented that the Sennelier line of professional acrylics, it still is my personal choice of student paint.  The Abstract line comes in the 120 ml pouches and on a per oz cost with other students paints, is much more economical but comes with the exception quality that Sennelier is famous for.  You know how much Titanium White we use, well, Abstract comes in a 500 ml. pouch.
Because I so highly recommend Abstract, I feel that it is only fair to mention the negatives that I have noticed about it.  
It is more water sensitive than some other brands, which is not entirely negative; it simply requires less water to capture flow.  This would be a simple adjustment for most artists.

It is sometimes hard to equate the student line of colors to the heavy body pro line of colors.
Abstract Pouches, Caps, and Sizes.
Here's some information about the Abstract line that I provided in my announcement of the event from the Facebook post for your convenience.
abstract® Acrylics
abstract® is an innovative heavy body acrylic system presented in a revolutionary packaging. Available in 60 colors (36 Satin, 12 High Gloss, 6 Iridescent and 6 Fluorescent), the highly pigmented paint features a heavy-body texture that offers great covering power while enabling for a lot of transparency. Painting straight out of the extra-sturdy pouch through the practical beak makes abstract ideal for both large work and "street art". The pouch is also economical as totally squeezable, and displays a transparent window for accurate color reference and level check. Sennelier has been indeed modern since 1887.
Innovative acrylic system in revolutionary packaging
60 Colors: 36 Satin, 12 High Gloss, 6 Iridescent and 6 Fluorescent
Available in 120ml/4oz. and 500ml/17oz. (20 colors)
10ml/.4oz. samples available for artists and schools
Highly pigmented fine acrylic
Heavy-body texture has both excellent covering power and outstanding transparency
Texture allows for all acrylic techniques
Painting straight out of the extra-sturdy pouch on any surface makes it ideal for "street art"
Totally squeezable pouch is economical
Large transparent window on the pouch displays actual paint inside the pouch
The only issues I have noticed with the packaging is
Caps can be hard on hands to open but do keep paint from drying out if you put the cap back on.  The hanging chad can be removed with a pair of needle nosed pliers and is easy to take off.  

Air pockets can happen because it's a pouch.  You can't see an air pocket so be careful when you squeeze out the paint to your palette; treat it as a frosting situation and carefully work the paint to the edge before squeezing. 
Easy peasy.
Abstract Acrylic Ink
Inks - acrylic, shake it up, mix it up, I used an 8 x 8 canvas to start demonstrating. Acrylic inks differ from fluid paint in that they are thinner and will run.  The Abstract line of inks have a heavy pigment load which does not fade and can be used to think your heavy body paint flow, but can do a line over acrylic paint when the acrylic paint underneath the ink is not yet dry.
I demoed some of the differences between heavy body, soft body, and inks. Soft body paint is creamy and self leveling.  Heavy body paint is thick and does not self-level, it holds its body, which means it shows more brush strokes.  Inks can be applied with a brush or directly onto a surface from the dropper.  Abstract can be applied over peaks of heavy body paint and will stick and not cause the paint underneath to crack.
While I showed you, Pierre quite simply equated all three lines to the dairy section of your local grocery store in the chat.  Heavy body is cream cheese.  Soft body is yogurt.  Ink is milk.    Ink also has a heavy pigment load so does not fade.  You can use inks to thin your HB flow.  You can use the inks to line over, even when the pigment is not dry underneath.
I nformation about the Abstract ink line for your convenience.
abstract® Inks
The abstract® Acrylic Inks feature the same high pigmentation as the abstract® Acrylic paint, and much more:
Water Resistant (when dry)
Recommended for all Surfaces
How long does it take for the paint to dry, and how do I need to wait before I varnish?
Between chat and my discussion, heavy body paint takes longer than soft body, which takes longer than ink, to dry.  Usually, within 1 day, my painting appears to be dry, BUT, I know that there can still be wetness beneath the surface, so I allow my paintings to dry for three weeks before I varnish.  
Sennelier's line of Acrylic Liners.
We discussed and played with these fun liners.
abstract® Liners
The abstract® Acrylic Liners come as a complement to the abstract® pouches and tips. The convenient shape and size make them extremely handy and they are sure to open new frontiers to any artist's creativity.
20 abstract® Best-Selling Colors
Holds abstract® Acrylic Paint
Heavy-body texture (not the common fluid acrylics)
For precise contours and special effects
Refillable from the abstract® pouch
Acrylic Tips
This might have been my favorite part of the show; I got to play with these tips and there were many ooooooohhhh and awwweeees.
abstract® Acrylics Tips
Mixed-media painters can let their creativity run wild with the Sennelier abstract® tips. The tips are screwed onto the abstract® pouch nozzle, thus enabling artists to paint straight out of the pouch and create numerous effects. The tips are a wonderful complement of the pouches, opening new horizons to studio and street artists alike.
8 abstract® tips for unlimited creativity.
Coupons
When I decided to try to do this review, I reached out and was provided with 2 huge coupons to offer to the community.  
Kings Framing & Art, Lise King

kingsframingandartgallery.com

Great customer service, based in Canada, ships worldwide, carries The Art Sherpa Brushes, and offers classes.  Long time supporter of artists.   10% off coupon with code "Sennelier-ArtSherpa

Raw Materials LA

info@Rawmaterialsla.com

Curbside parking, rooftop parking, large selections, friendly and offers classes.

45% off while supplies last.  
Iridescent Abstract Heavy Body 
I demoed this product in copper with the ribbon tip and the crowd went wild.
How The Art Sherpa Discovered Abstract Paint Products 
I ran into the paint at our first NAMFA and then I had the pleasure of meeting Pierre.  ; I've known them for a number of years, I've participated with them on several products, they send me new products when they come out.  We consider them to be among the most knowledgeable in the industry. 
It was at this point that Stunt Hands said "NEVER HAVE I WANTED MORE ZOOM!!!!"
Abstract Heavy Body Neon
I used neon pink and the gnomes have reported that at least 3 community members, and you know who they were if you were there, left the stream to buy the neons.  Lol
 Glossy Finish or Matte Finish
Soft Body Matt 
The abstract® Matt Acrylic Paint is as innovative as it is distinct from the original Satin version. In fact, asides from the revolutionary pouch, the twins couldn't be as different:
Extremely Fluid for Maximum Coverage
The product is available in a set of 5 (Primaries plus Black & White)
Neon Abstract Pen Liner
Do all of these products work with other products?  
Yes.  This product does not move during the varnish stage.  Keep in mind that while you could paint oil over acrylics but cannot paint acrylics over oil.  
Contest
The Grand Prize $200 Value
20 colors of Abstract innovative paint 120ml pouch Value 200$
10 additional Abstract Prize Packs 
10 Abstract Paint Prizes (Surprise Abstract Gift Products-Full Size)  Value 50$ 
7 of the prizes open to  18+ living in the contiguous United States and Canada 

3 of the prizes will be awarded global to people 18+  where legally allowed 
Thank You To our Co-Hosts Pierre and Andrew at Savoir Faire
We love you guys and hope you will agree to be with us again in the not so distant future.  Savoir Faire is a division of MacPherson's and all of our prizes were contributed to our community by them.  You can visit them at savoirfaire.com to learn more about the full line of art and artist products that they carry.  
Tags