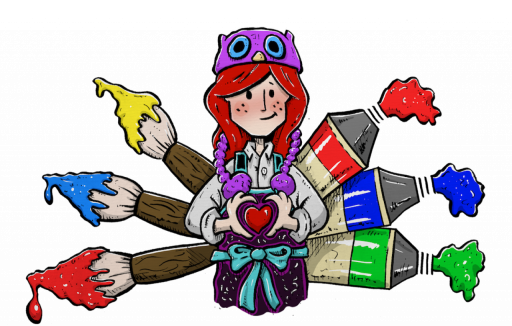 Stats
Member Since March 10, 2016
Love Given: 0
Posts: 4
Abstract Paint By Sennelier

2021-02-03
By: TheArtSherpa
Posted in: Painting Party From Home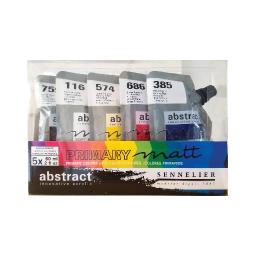 You are invited to learn all about  Abstract Paint product's by Sennelier!
 Learn - Save - Win
Abstract Paint By Sennelier GIVEAWAY Live stream and  Demo
YOU WON'T WANT TO MISS THIS!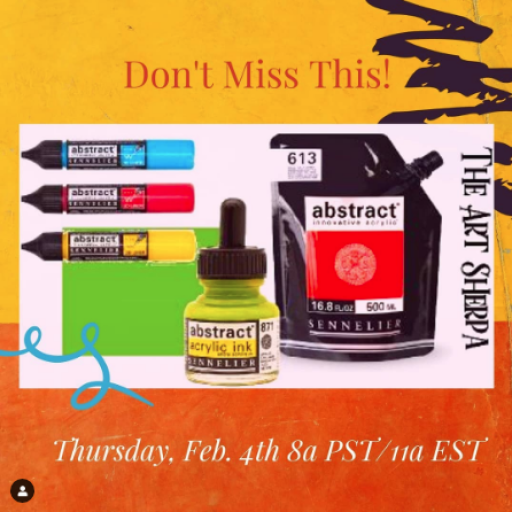 To find out more about Abstract products from Sennelier, watch the live stream on 4th February on your chosen social media platform. Whether it is Facebook or YouTube you love to hang out on, The Art Sherpa has you covered. You can Ask Questions and have them answered live!  Chat, and ENTER TO WIN is available on both platforms. 
00:00  Intro
01:25  Message from Andrew Cook from Savoir Faire
02:35  Why I use Abstract Paint Products
03:30  Close up of past finished painting
07:20  Abstract Pouches, Caps, and Sizes
14:10  Abstract Acrylic Ink
16:55  Abstract Fluid Acrylic Paint
17:15  Soft Body VS Heavy Body
21:50  EXTREME CLOSE UP
 BEWARE!!  ADDICTIVE TO WATCH
22:30  More Abstract Acrylic Ink w/ brush
25:20  Abstract Acrylic Pen Liners
28:08  Abstract Acrylic Heavy Body w/ Palate knife
32:35  Abstract Paint Tips for pouches
37:10  Acrylic Ink over peaks of Heavy Body Paint 
39:20 Thank You Kings Framing and Art in Canada
40:00  Thank You Raw Art Materials in Los Angeles
43:50  Does this work with professional paint lines
45:20  Smooshing Paint for fun
46:44  Iridescent Copper Abstract Heavy Body 
48:10  How The Art Sherpa Discovered Abstract Paint Products 
49:09  Metallic Gold Abstract Pen Liner
50:40  Fun with Ink and Liner Pen, EXTREME ZOOM!
52:50  Playing with more Ink
54:25  The Art Sherpa Experience with Quality
55:47  Abstract Heavy Body Neon
57:10  Glossy Finish or Matte Finish
57:30  Neon Abstract Pen Liner
59:40  https://theartsherpa.com/theartsherpacommunity/blog/280/abstract-paint-by-sennelier
1:01:09  Why Did the Art Sherpa Do this Live
1:06:25  Thank You To our Co-Hosts Pierre and Andrew at Savoir Faire
FACEBOOK Todays event is at 11 am EST live streaming. The correct event link is https://fb.me/e/MOL7dh3k . You can watch from facebook or Youtube
Win prizes and Save money !!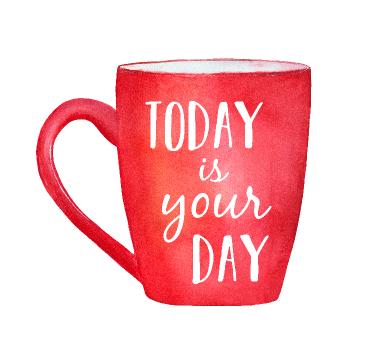 Congratulations to the winners of our Savoir Faire Giveaway. We are reaching out right now if you have not seen your email quickly write support@theartsherpa.com - we dont want you to miss your prize
Rosemaree McLure Australia
Stacey West United Kingdom
Jonnie M Simmons-Johnson USA (Grand Prize)
I get asked often what student brands of paint I recommend. I also get asked why I recommend the ones that I do. The one I use in my own Studio is Abstract paint by Sennelier 
I want to be clear I'm not paid to use this paint. I do have a relationship with the owners of the Savoir-faire and we are friends. They do send me stuff and asked my opinion. However, I've never been asked to give a review. This is an idea I have wanted to do for a really long time.
This is my Friend Pierre from Savoir Faire.
Sometimes we hang out on Instagram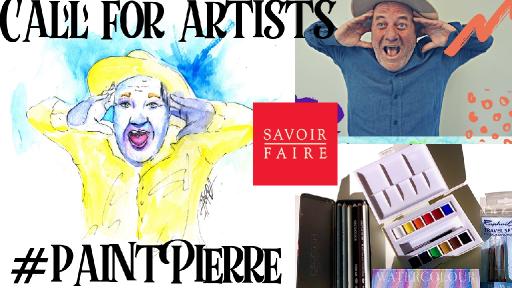 This event is for you. I want you to understand why I think this is a great product. Why it is worth your time and investment. I want to help you know what's available to you in this large amazing product line. I want you to know what's great about it,  I'm even going to tell you some challenges you might have. I'm going to be honest with you because I think that is what helps you the most. Of course you know I wouldn't be making a video about it unless I thought it was worth your time. However there's so many colors and different types of acrylic paint that they make you really want to see what the creative opportunities are. The live stream is at 11 a.m. est. We will be streaming from both YouTube and Facebook, so just pick your favorite. We will be featuring special sales for this event that you can take advantage of that are just for you!! 
COUPONS for YOU!!!
Lets Save Money
I'd also like to help you save some money so please check for the amazing coupons from art stores that are participating in the event. They were invited to take part because I honestly believe that you guys having a relationship with art suppliers is so important. Being able to go into a local art store ( when were able to go into a local art store again) creates such a tremendous sense of community. This helps you find art materials you need and discover exciting new ones around every corner, Gives you access to classes, and art opportunities that you wouldn't be able to find from home. Being aware of online retailers can help you find Art Materials when you're unable to travel, give you access to variety of large size stock items like easels or specialty studio equipment.  I think both of these things are super important.
Kings Framing and Art!!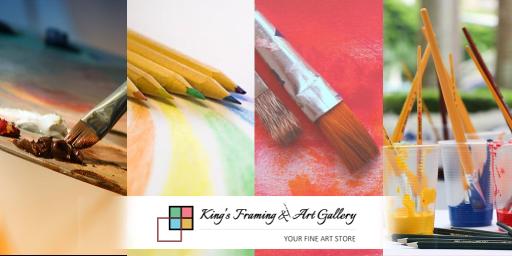 Lise King has been a long time supporter of myself and my community!!
Great customer Service 

Based in Canada 

Ships Worldwide 

Carries my Brushes

Classes 
Code for this event is: Sennelier-ArtSherpa
this is a 10% off Check out code 
10:00 am to 6:00 pm | 24hrs online

info@kingsframingandartgallery.com

188 Voyer Rd, Corbeil, ON P0H 1K0, Canada

10% off with code 
ORDER BY PHONE: 705-752-4211  https://www.kingsframingandartgallery.com/ 
For more sales and events
Follow Kings Framing and Art  
Facebook https://www.facebook.com/kingsartstore/
Instagram https://www.instagram.com/kingsframingartgallery/ 
Raw Materials LA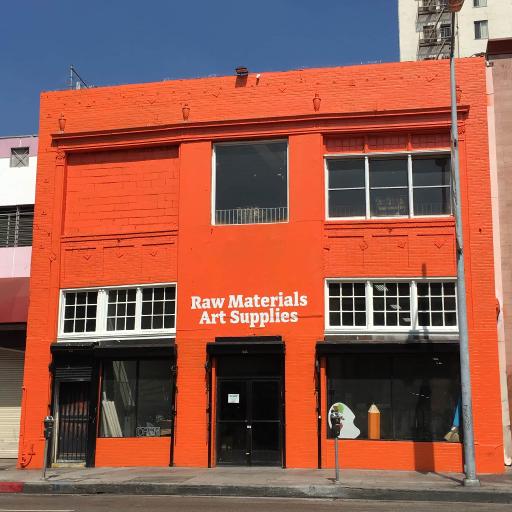 645 South Los Angeles Street
Los Angeles, CA 90014
(800) 729-7060
Follow 
Instagram - https://www.instagram.com/rawmaterialsartsupplies/ 
Facebook - https://www.facebook.com/RawMaterialsLA 
Curbside Delivery 

Rooftop parking 

large selections 

Friendly 

Classes 
| | | |
| --- | --- | --- |
| | 45% off while Supllies last | |
https://rawmaterialsla.com/art-supplies/paints-and-mediums/acrylic-colors/sennelier-abstract-acrylics
https://rawmaterialsla.com/art-supplies/paints-and-mediums/acrylic-colors/sennelier-abstract-liners
https://rawmaterialsla.com/art-supplies/pens-inks-and-markers/inks/sennelier-abstract-acrylic-ink-sets
The Give Away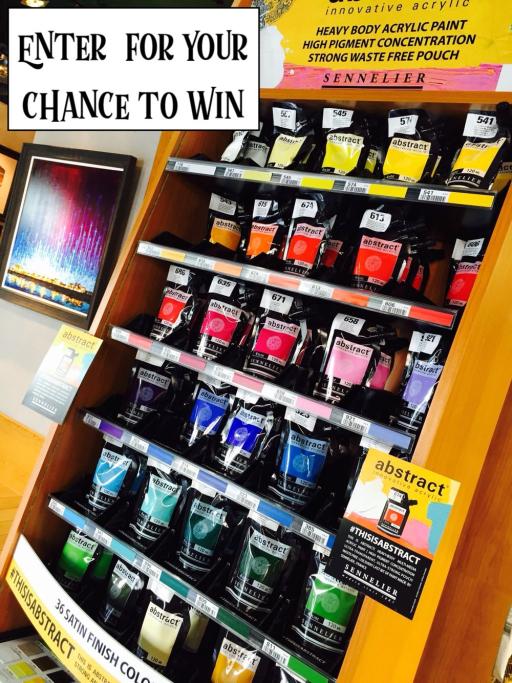 Enter here - https://forms.gle/d5aJfFG9YPozTKYG7
The prizes 
Learn and Win!! Join me and Andrew Cook of Savoir Faire for a live stream demonstration event. I will show you all about  the Abstract Paint line of products. During this very informative live stream we will be giving away 1 grand prize and 10 amazing Abstract paint prize packs.  Follow all instructions and answer all questions to be entered for your chance to win one of these cool prizes. Winners will be announced during the live show but do not need to be present to win. 
The Grand Prize $200 Value
20 colors of Abstract innovative paint 120ml pouch Value 200$
10 additional Abstract Prize Packs 
10 Abstract Paint Prize's (Surprise Abstract Gift Products-Full Size)  Value 50$ 
Eligibility for the Grand Prize:
Must be 18+ 
Living in the Contiguous United States and Canada 
Eligibility 10 Mystery - Abstract Prize Packs: 
7 of the prizes Open to  18+ Living in the Contiguous United States and Canada 
3 of the prizes will be awarded global to people 18+  where legally allowed 
*********************************************************************************
No purchase is necessary to enter  
Winners will be announced during the live show but do not need to be present to win. 
Winners must respond to their confirmation within 72 hours to coordinate free shipping of their prize.
NO personal information gathered from this from will be shared or used for purposes outside of entry  
The statistical data of the last two question will be shared with Abstract paint but no personal or contact information will be shared or used outside of contacting winners.  
This giveaway is not Affiliated with YouTube or Facebook in any way. 
Giveaway is co hosted by:
Andrew Cook, Savoir Faire, and The Art Sherpa 
contact info: support@theartsherpa.com
Andrew Cook: Andrewc@macphersonart.com 
More info 
https://www.savoirfaire.com/product-category/painting/painting-sennelier/sennelier-acrylics/abstract/
The Paint 
Heavy Body 
abstract® Acrylics
abstract® is an innovative Acrylic system presented in a revolutionary packaging. Available in 60 colors (36 Satin, 12 High Gloss, 6 Iridescent and 6 Fluorescent), the highly pigmented paint features a heavy-body texture that offers great covering power while enabling for a lot of transparency. Painting straight out of the extra-sturdy pouch through the practical beak makes abstract ideal for both large work and "street art". The pouch is also economical as totally squeezable, and displays a transparent window for accurate color reference and level check. Sennelier has been indeed modern since 1887.
Innovative Acrylic system in revolutionary packaging

60 Colors: 36 Satin, 12 High Gloss, 6 Iridescent and 6 Fluorescent

Available in 120ml/4oz. and 500ml/17oz. (20 colors)

10ml/.4oz. samples available for artists and schools

Highly pigmented Fine Acrylic

Heavy-body texture has both excellent covering power and outstanding transparency

Texture allows for all Acrylic techniques

Painting straight out of the extra-sturdy pouch on any surface makes it ideal for "street art"

Totally squeezable pouch is economical

Large transparent window on the pouch displays actual paint inside the pouch
Soft Body Matt 
The abstract® Matt Acrylic Paint is as innovative as it is distinct from the original Satin version. In fact, asides from the revolutionary pouch, the twins couldn't be as different:
60ml instead of 120ml

35 Ultra-Matt Colors

Soft-body Consistency

Extremely Fluid for Maximum Coverage

Super Opaque

Velvety Stretchy Finish

Any Substrate
The product is available in a set of 5 (Primaries plus Black & White)
abstract® Inks
The abstract® Acrylic Inks feature the same high pigmentation as the abstract® Acrylic paint, and much more:
43 Luminous Colors

Acrylic Thinner

Transparent

Cadmium Free Colors

Light Resistant

Water Resistant (when dry)

Recommended for all Surfaces

Brushes & Dip Pens

Suitable for Airbrush

Convenient Cap Dropper
abstract® Liners
The abstract® Acrylic Liners come as a complement to the abstract® pouches and tips. The convenient shape and size make them extremely handy and they are sure to open new frontiers to any artist's creativity.
20 abstract® Best-Selling Colors

Holds abstract® Acrylic Paint

Heavy-body texture (not the common fluid acrylics)

For precise contours and special effects

Highly pigmented

Refillable from the abstract® pouch
abstract® Acrylics Tips
Mixed-media painters can let their creativity run wild with the Sennelier abstract® tips. The tips are screwed onto the abstract® pouch nozzle, thus enabling artists to paint straight out of the pouch and create numerous effects. The tips are a wonderful complement of the pouches, opening new horizons to studio and street artists alike.
8 abstract® tips for unlimited creativity.
Tags