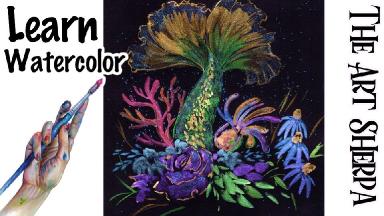 Mermaid Fairy Tail watercolor class Black paper Metallic paint Its been a while since we use our Black watercolor Paper and shimmer Watercolors so when I did this mermaid Tail you know I was excited to share
This is a Free full video where you Learn how to paint a Mermaid tale and ocean florals with Metallic watercolors on Black paper
This will be a very mysterious and mystical painting.
I will use Fabriano Black 8x8
Paul rubens glitter watercolor
( you can paint this with regular paper and watercolors too ) Example will be shown
If you have wondered if these are worth the time and money we are going to find out.
You can paint along using regular colors and white paper if you like. ALL are welcome
Any level of student is welcome. No drawing skill required. Any age of student from anywhere in the world is welcome. I recommend Materials but you can use what you have.
( YOU CAN USE ANY WATERCOLOR YOU HAVE) yes even crayola. If you need them we do have art materials in the store.
Past live streams are here
The only links you should use are these as there are some fake ones that come up. AT no point will the classes cost any money. No subscription or off site viewing. This is always Free and on Facebook or my free website
www.theartsherpa.com
Tags