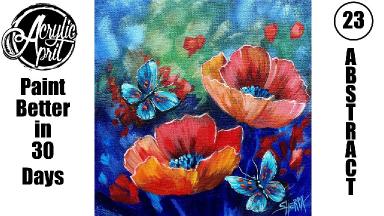 Abstracted Floral a beginner-friendly, step-by-step tutorial on painting an abstract floral scene featuring poppies and butterflies, set against a backdrop of lyrical abstraction.
Join us on Day 23 of Acrylic April 2023 – our 5th year of the first Daily Painting course aimed at beginners looking to hone their abstract painting skills with acrylics. In this tutorial, The Art Sherpa takes you on a colorful and expressive journey, teaching you how to create a vibrant, abstract floral scene that embraces the essence of lyrical abstraction.
🎨🖌️ Follow along in real-time with our expert guidance, multiple camera angles, and clear explanations, making the process easy to understand and enjoyable for all skill levels.
🎥💬 Join our daily live stream chats to connect with a community of fellow painters who share your passion for art and creativity.
Difficulty Level: 3 Hoots 🦉🦉🦉
#theartsherpa
#AcrylicPainting
#AcrylicApril2023
#Painting
#Art
#Abstract
#AbstractArt
Chapters :
00:00 Intro
1:56 Step 1
3:35 Step 2
6:45 Step 3
10:25 Step 4
14:06 Step 5
19:20 Step 6
21:19 Step 7
23:08 Step 8
25:08 Step 9
26:45 Step10
30:25 Step11
33:15 Step12
35:09 Step13
39:30 Step14
45:25 Step15
53:04 Sign
🛒 STORE 📖 BOOKS 🚌 SCHOOL and more : www.theartsherpa.com
*** Acrylic Paint Colors ***
🎨 🎨 🎨 🎨 🎨 🎨 🎨
PAINT
Cadmium Red Medium = CRM
Cadmium Yellow Medium = CYM
Phthalo Blue = PB
Ultramarine Blue = UB
Phthalo Green = PG
Burnt Sienna = BS
Dioxazine Purple = DP
Mars Black = MB
Titanium White = TW
Fluid White Paint = FWP
BRUSHES
#20
Hog Bright by Raphael D'Artigny
1 inch Oval Mop by Princeton Select
#12
Synthetic Bright by Raphael Textura
#10
Synthetic Round by Raphael Textura
#2
Synthetic Liner by Raphael Precision
TOOLS
T-Square Ruler
Chalk Pencil or Watercolor Pencil
8x8 Canvas (If you notice that your canvas started to warp, as sometimes happens, just turn the canvas over and put it back side forward on your easel, then mist the back of the canvas. It usually resolves itself. Let it dry before you proceed.)
Optional: StayWet Palette
🔥 Check out my Acrylic April 2023 !
https://youtube.com/playlist?list=PLXUkNk1HRolGhfJ-W2UnmikylhIfeM3iX
🔴 Check out my Upcoming Live streams :
https://www.youtube.com/@TheArtSherpa/live
⭐️ Subscribe:
https://www.youtube.com/TheArtSherpa
🔥 Check out my PAST Live Streams!
https://www.youtube.com/@TheArtSherpa/streams
🔴 Check out my Upcoming Live streams
https://www.youtube.com/@TheArtSherpa/live
👩‍🎤 Follow The Art Sherpa
Website:
https://theartsherpa.com/
Facebook:
https://www.facebook.com/TheArtSherpa
Instagram:
https://www.instagram.com/theartsherpa
Pinterest:
https://www.pinterest.com/cinnamoncooney
#TheArtSherpa
#AcrylicPainting
#AcrylicApril2023
#Painting
#Art
#Abstract
#AbstractArt
About The Art Sherpa:
💌 Artwork and video is the sole property of The Art Sherpa™ and intended for the students personal education and Enjoyment. For questions regarding using any Art Sherpa painting in a commercial setting contact us labs@theartsherpa.com for all other questions support@theartsherpa.com
Tags