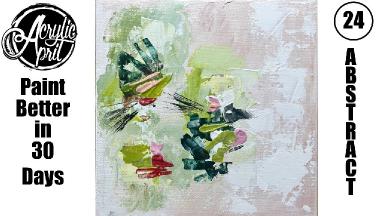 Grab your Artist Knives and get a textured abstract painting with this beginner-friendly, step-by-step tutorial by The Art Sherpa. Learn how to create a nature-inspired, calming abstract landscape using a variety of techniques and a cool, neutral color palette.
Join us for Day 24 of Acrylic April 2023 – our 5th year of the first Daily Painting course aimed at beginners looking to develop their abstract painting skills with acrylics. Follow along in real-time as The Art Sherpa demonstrates the use of palette knives, diffused color application, and intriguing line work to create a rich, sensory experience for the viewer.
🎨🖌️ With 100% real-time instruction, multiple camera angles, and clear explanations, you'll find it easy to understand and enjoyable to participate, regardless of your skill level.
🎥💬 Don't miss out on our daily live stream chats to connect with a supportive community of fellow painters who share your passion for art and creativity.
Difficulty Level: 1 Hoot 🦉
#TheArtSherpa
#AcrylicPainting
#AcrylicApril2023
#Painting
#Art
#Abstract
#AbstractArt
Chapters :
00:00 Intro
2:19 Step 1 Colored Background
7:52 Step 2 Green Harmony
10:11 Step 3 Joyful Yellow
12:00 Step 4 Grounding Brown
13:17 Step 5 Lightning The Canvas
15:00 Step 6
18:50 Step 7
21:28 Outro
🛒 STORE 📖 BOOKS 🚌 SCHOOL and more : www.theartsherpa.com
*** Acrylic Paint Colors ***
🎨 🎨 🎨 🎨 🎨 🎨 🎨
PAINT
Cadmium Red Medium = CRM
Quinacridone Magenta = QM
Cadmium Yellow Medium = CYM
Phthalo Green = PG
Burnt Sienna = BS
Mars Black = MB
Titanium White = TW
Hansa Yellow Light = HYL
BRUSHES
Large Trowel Palette Knife
Small Diamond Palette Knife
TOOLS
8X8 Canvas (If you notice that your canvas started to warp, as sometimes happens, just turn the canvas over and put it back side forward on your easel, then mist the back of the canvas. It usually resolves itself. Let it dry before you proceed.)
Optional: StayWet Palette
🔥 Check out my Acrylic April 2023 !
https://youtube.com/playlist?list=PLXUkNk1HRolGhfJ-W2UnmikylhIfeM3iX
🔴 Check out my Upcoming Live streams :
https://www.youtube.com/@TheArtSherpa/live
⭐️ Subscribe:
https://www.youtube.com/TheArtSherpa
🔥 Check out my PAST Live Streams!
https://www.youtube.com/@TheArtSherpa/streams
🔴 Check out my Upcoming Live streams
https://www.youtube.com/@TheArtSherpa/live
👩‍🎤 Follow The Art Sherpa
Website:
https://theartsherpa.com/
Facebook:
https://www.facebook.com/TheArtSherpa
Instagram:
https://www.instagram.com/theartsherpa
Pinterest:
https://www.pinterest.com/cinnamoncooney
#TheArtSherpa
#AcrylicPainting
#AcrylicApril2023
#Painting
#Art
#Abstract
#AbstractArt
About The Art Sherpa:
💌 Artwork and video is the sole property of The Art Sherpa™ and intended for the students personal education and Enjoyment. For questions regarding using any Art Sherpa painting in a commercial setting contact us labs@theartsherpa.com for all other questions support@theartsherpa.com
Tags