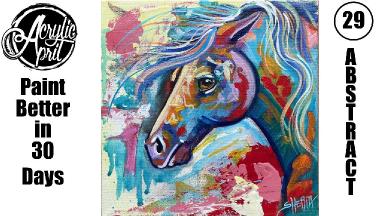 Traceables:
Step By Step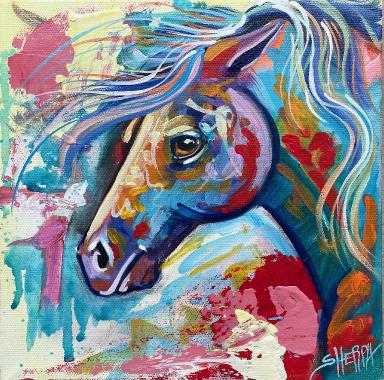 Larger View
Unleash your creativity with this beginner-friendly step-by-step tutorial brought to you by The Art Sherpa. Learn how to paint an abstract horse using acrylics, combining abstract expressionist elements with figurative expressionism. Acrylic April 2023 marks our 5th year of the first Daily Painting course designed for beginners who want to improve their abstract painting skills with acrylics.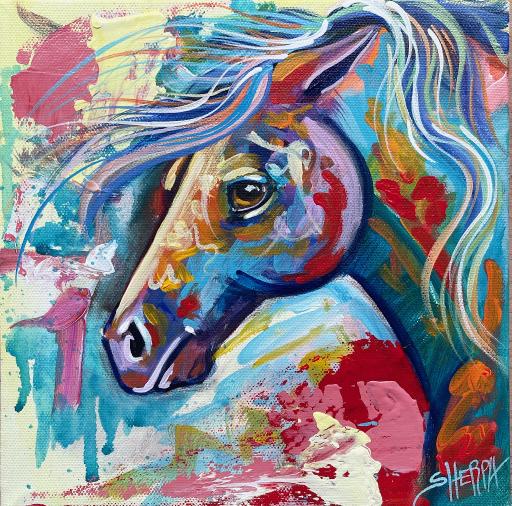 🎨🖌️ Follow along with The Art Sherpa as you explore the fantastical colors, loose and rough application of paint, and the nondescript background created with palette knives that contribute to the abstract expressionist elements of the artwork. Delve into the recognizable horse subject and the realistic eye within the otherwise abstracted rendering, which introduce elements of figurative expressionism.
🎥💬 Join our daily live stream chats to connect with a supportive community of fellow painters who share your passion for art and creativity. Our 100% real-time instruction, multiple camera angles, and clear explanations make it easy for you to understand and enjoy the painting process, regardless of your skill level.
Difficulty Level: 3 Hoots 🦉🦉🦉
#TheArtSherpa  #AcrylicPainting #AcrylicApril2023 #Painting #Art #Abstract #AbstractArt 
Chapters : 
00:00     Intro
2:20       Step 1  Sketch Image
4:48       Step 2  Eye and Nose
8:31       Step 3 define the eye 
11:40     Step 4 background 
14:19     Step 5 splats 
20:04     Step 6 paint the horse 
24:55     Step 7 red 
28:09     Step 8 Face 
33:45     Step 9 The blue 
36:39     Step10 Energy 
40:41     Step11 highlights 
43:40     Step12 white lining 
52:24     Sign
🛒 STORE 📖 BOOKS 🚌 SCHOOL and more : www.theartsherpa.com 
*** Acrylic Paint Colors ***
🎨 🎨 🎨 🎨 🎨 🎨 🎨
PAINT
Cadmium Red Medium = CRM
Quinacridone Magenta = QM 
Cadmium Yellow Medium = CYM
Phthalo Blue = PB
Ultramarine Blue = UB
Phthalo Green = PG
Burnt Sienna = BS
Mars Black = MB
Titanium White = TW
Hansa Yellow Light = HYL
Fluid White Paint = FWP
Low tac tape and paper towels 
Brushes used in this Tutorial
#12 Textura flat by Raphael
#10 Textura round by Raphael
Detail Liner
½ inch Angle by Catalyst
#20 Hog Round by D'artigny 
🔥   Check out my Acrylic April 2023 ! https://youtube.com/playlist?list=PLXUkNk1HRolGhfJ-W2UnmikylhIfeM3iX
🔴   Check out my Upcoming Live streams : https://www.youtube.com/@TheArtSherpa/live 
⭐️ Subscribe: https://www.youtube.com/TheArtSherpa
🔥 Check out my PAST Live Streams! https://www.youtube.com/@TheArtSherpa/streams
🔴 Check out my Upcoming Live streams https://www.youtube.com/@TheArtSherpa/live
👩‍🎤 Follow The Art Sherpa 
Website: https://theartsherpa.com/
Facebook: https://www.facebook.com/TheArtSherpa
Instagram: https://www.instagram.com/theartsherpa
Pinterest: https://www.pinterest.com/cinnamoncooney
#TheArtSherpa  #AcrylicPainting #AcrylicApril2023 #Painting #Art #Abstract #AbstractArt 
About The Art Sherpa:
💌   Artwork and video is the sole property of The Art Sherpa™  and intended for the students personal education and Enjoyment. For questions regarding using any Art Sherpa painting in a commercial setting contact us  labs@theartsherpa.com for all other questions support@theartsherpa.com
Tags