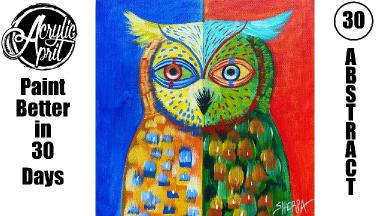 Acrylic April Day 30: Abstract Owl | Beginner Acrylic Tutorial Unleash your inner artist with this beginner-friendly step-by-step tutorial brought to you by The Art Sherpa. Learn how to paint an abstract owl, combining elements of Cubism, Surrealism, and Color Theory in an easy acrylic painting tutorial for beginners. Acrylic April 2023 marks our 5th year of the first Daily Painting course designed for beginners who want to improve their abstract painting skills with acrylics.
️ Follow along with The Art Sherpa as you explore the symbolic and stylistic aspects of the abstract owl, from the cubist-inspired structure to the imaginative arrangement of the owl's eyes. Discover the powerful exploration of color theory, with the use of contrasting colors such as blue and cadmium red, demonstrating the artist's focus on the interaction and harmony of colors.
Join our daily live stream chats to connect with a supportive community of fellow painters who share your passion for art and creativity. Our 100% real-time instruction, multiple camera angles, and clear explanations make it easy for you to understand and enjoy the painting process, regardless of your skill level.
Difficulty Level: 3 Hoots
#TheArtSherpa
#AcrylicPainting
#AcrylicApril2023
#Painting
#Art
#Abstract
#AbstractArt
Chapters :
00:00 Intro
2:05 Step 1 Sketch The Image
6:00 Step 2 Complimentary Background
8:15 Step 3 Layers Of Depth
9:58 Step 4 Blocking In The Owl
13:02 Step 5 Face
16:10 Step 6 Body
20:15 Step 7 Eyes
22:00 Step 8 Beak And Left Base Feathers
24:12 Step 9 RIght Base Feathers
25:00 Step10 Head
30:40 Step11 Eyelids
34:35 Step12 Eyeballs
44:07 Step13 Complimentary Feathers
46:54 Step14 Left Face Details
49:34 Step15 Right Face Details
56:48 Sign
STORE BOOKS SCHOOL and more : www.theartsherpa.com
*** Acrylic Paint Colors ***
PAINT
Cadmium Red Medium = CRM
Cadmium Yellow Medium = CYM
Ultramarine Blue = UB
Phthalo Green = PG
Burnt Sienna = BS
Mars Black = MB
Titanium White = TW
Fluid White Paint = FWP
BRUSHES
Small Synthetic Filbert
Large Hog Bright
Medium Synthetic Bright
X-Small Synthetic Round
Small Synthetic Round
TOOLS
T-Square Ruler
Chalk Pencil or Watercolor Pencil
8x8 Canvas (If you notice that your canvas started to warp, as sometimes happens, just turn the canvas over and put it back side forward on your easel, then mist the back of the canvas. It usually resolves itself. Let it dry before you proceed.)
Optional: StayWet Palette
Check out my Acrylic April 2023 !
https://youtube.com/playlist?list=PLXUkNk1HRolGhfJ-W2UnmikylhIfeM3iX
Check out my Upcoming Live streams :
https://www.youtube.com/@TheArtSherpa/live
⭐️ Subscribe:
https://www.youtube.com/TheArtSherpa
Check out my PAST Live Streams!
https://www.youtube.com/@TheArtSherpa/streams
Check out my Upcoming Live streams
https://www.youtube.com/@TheArtSherpa/live
‍ Follow The Art Sherpa
Website:
https://theartsherpa.com/
Facebook:
https://www.facebook.com/TheArtSherpa
Instagram:
https://www.instagram.com/theartsherpa
Pinterest:
https://www.pinterest.com/cinnamoncooney
#TheArtSherpa
#AcrylicPainting
#AcrylicApril2023
#Painting
#Art
#Abstract
#AbstractArt
About The Art Sherpa:
Artwork and video is the sole property of The Art Sherpa™ and intended for the students personal education and Enjoyment. For questions regarding using any Art Sherpa painting in a commercial setting contact us labs@theartsherpa.com for all other questions support@theartsherpa.com
Tags