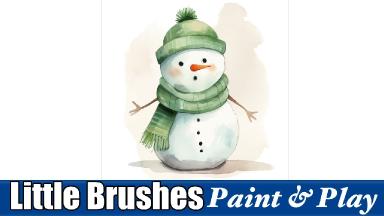 Join us for a frosty adventure in art with "Little Brushes Paint & Play"! 🎨❄️
In this fun-filled live show, we'll dive into the magical world of watercolors as we draw and paint a cheerful snowman that's sure to brighten your day. No matter what art supplies you have on hand, everyone is welcome to create their own winter wonderland masterpiece.
️ What you'll learn:
Basic drawing techniques to bring your snowman to life.
How to mix primary colors in watercolor to create a vibrant palette.
The joy of painting with a simple round brush on 140lb watercolor paper.
Our art store :
https://store.theartsherpa.com/storefront.aspx
Supplies you'll need:
Watercolors (red, yellow, blue)
Round brush
140lb watercolor paper
So gather your paints, grab your brushes, and let's make this winter special with a splash of color and a dash of creativity. Don't forget to hit 'Subscribe' and 'Like' to keep up with all our Little Brushes Paint & Play sessions!
Stay tuned, set your reminders, and let's create a snowman that even Frosty would be proud of! See you there! ☃️🎨
Check out my Upcoming Live streams:
https://www.youtube.com/@TheArtSherpa/live
⭐️ Join my Patreon :
https://patreon.com/TheArtSherpa
Check out my Recent Videos!
https://www.youtube.com/@TheArtSherpa/videos
‍ Follow The Art Sherpa
Website:
https://theartsherpa.com/
Facebook:
https://www.facebook.com/TheArtSherpa
Instagram:
https://www.instagram.com/theartsherpa
Pinterest:
https://www.pinterest.com/cinnamoncooney
PLEASE note there are many other places to buy materials, and I support you in shopping and finding your best deal.
Please let me know if a link is broken. support@theartsherpa.com
About The Art Sherpa:
Artwork and video are the sole property of The Art Sherpa™ and intended for the student's personal education and Enjoyment. For questions regarding using any Art Sherpa painting in a commercial setting, contact us at labs@theartsherpa.com. For all other questions support@theartsherpa.com
Please read our full disclosure here that covers partnerships and affiliate links
http://bit.ly/affiliatedisclosureTAS
Image source credit : 2300553439 Zaleman Shutterstock
Tags