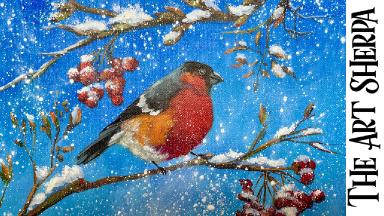 Traceables: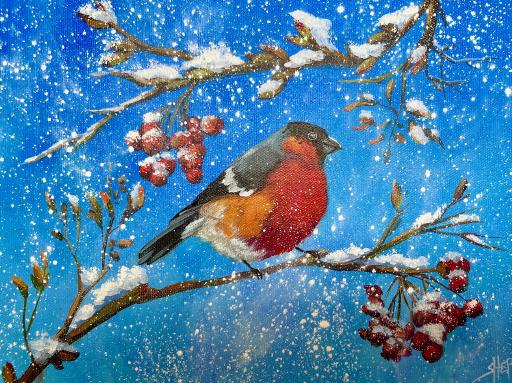 How to Draw and paint a Bullfinch bird   🌟🎨 for beginners: Paint Night at Home | Easy Step by step   painting tutorial for beginners.Watch me design and teach a painting from Viewers choice Vote Live. It's all 100%   real-time, with multi-camera angles, and thoroughly explained. YOU CAN PAINT THIS !! The Art Sherpa brings you all your art lessons. In addition, you can connect with other painters like you through our Live Stream Chats in every video.  
Difficulty meter level in   Hoots: #StepByStep #PaintingDrawing #Art   #AcrylicPainting #TheArtSherpa #Painting #PaintNight  
The Choices were: pinecones, Snowy pine branches, Holly, or Bird on a Branch.  
✏️     TRACEABLE :  
🎨🎨 MORE Student Resources: www.theartsherpa.com  
Chapters :  
    Below is a list of RECOMMENDED MATERIALS.  
My Art Materials Store Can be Found Here  
https://store.theartsherpa.com/storefront.aspx
*** Acrylic Paint Colors ***
🎨 🎨 🎨 🎨 🎨 🎨 🎨
Cadmium Yellow Medium  
❤️ Cadmium Red medium
❤️ Quinacridone Magenta  
Phthalo Blue Green shade    
Ultramarine blue  
Phthalo   Green Blue shade  
  Burnt Sienna    
☁️   Titanium white
☁️ Fluid Titanium white (optional for fine lines )    
Mars black
.
CANVAS  
9x12
9x12 Fabriano 1264 mixed media paper  
OTHER TOOLS  
The sta-wet palette on show
Dritz chalk tool - Tailor's chalk tool  
T Square Ruler
Golden Glazing Liquid For Blending
Saral Paper
Artist Tape  
Brushes -  
Please use these brushes as a guide for what I intend to use. These are brushes I use a lot. Therefore, having the exact brand of brushes I use is unnecessary. My brands are D'Artigny, Textura, Isacrylic by Isabey,   Raphael brush, Simply Simmons Extra Firm, Princeton Catalyst, Velvet touch and Select - When a brush is called a Hog Brush, it uses natural Hog Bristles.  
Princeton 1# Oval Mop
  Princeton #12 Round Blender  
Princeton #1 Detail Round for details
Assorted brushes for Acrylic  
Assorted brushes for Acrylic -Brights, Filberts, Angles and Rounds  
Tags