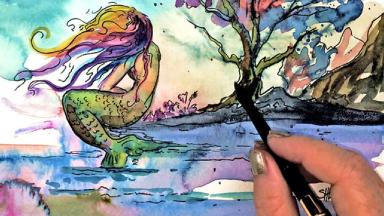 Traceables:
Weeping Mermaid QOR watercolor A relaxing and Oddly satisfying speedpaint with lovely song. I love bleeding watercolor is so relaxing. It is important to Free paint and Doodle. To just see where the color runs and what comes out of that. I made this as a de-stressing art project and found the mermaid while painting it. Art Sherpa
Below are a list of materials. The links go through our Amazon Affiliate program, and you support The Art Sherpa when using them. These are link to make thing easy and convenient. *** Watercolors * Golden QoR Watercolor Introductory Set 12 colors: http://amzn.to/2eYwA4f
Black Velvet Brush Voyage: http://amzn.to/2fOoie3
Strathmore STR-472-9 15 Block Watercolor, 9 by 12" http://amzn.to/2eU80xO
Le Pen http://amzn.to/2eUajRz Song is OCEAN by JAM STUDIO
*** Assorted Brushes for Acrylic Painting *** Medium flick resistance, synthetic or natural fiber. Short Bristles and Short handle. Acrylic handle over wood and Synthetic fiber over natural . www.thebrushguys.com Use The Code " theartsherpa" for 5% off Simply Simmons long handle (there short on this line)
*** Other Supplies *** Paper towels Water cup Chalk, a few colors Ruler Sharpie Table easel Delicious snack or beverage A smile!
WWW.THEARTSHERPA.COM
TWITTER: @artsherpa
PINTEREST: https://www.pinterest.com/cinnamoncooney *** LOTS of pinnables!
FACEBOOK: https://www.facebook.com/TheArtSherpa/
INSTAGRAM: https://instagram.com/theartsherpa
Store: https://shop.theartsherpa.com/
HEART MAIL: Art Sherpa 204 9490 fm 1960 RD W suite 200 Humble tx 77338 Artwork is the property of Hart Party and The Art Sherpa it is intended for the personal enjoyment of the student and not commercial use. Contact us for commercial use policies. For-profit businesses in the Painting Party industry may not use our tutorial/original painting design without a licensed or signed-use deal with Hart Party. If you'd like to share our tutorial/original painting design with a church group, skilled nursing facility or other nonprofit interest, do get in touch. We have ideas, guides and a few fun little extras to make bringing the Art Sherpa to your community one big party. Let's collaborate! This artwork is under copyright and is intended for the viewer's personal enjoyment. If your paintings of my original design are offered for sale in a retail setting of any kind, please attribute 'Original design by Hart Party. www.theartsherpa.com' Did you sell a painting of my original design via private sale? Congratulations and big art high fives! Please, create no prints or mechanical reproductions of your paintings of my original design.