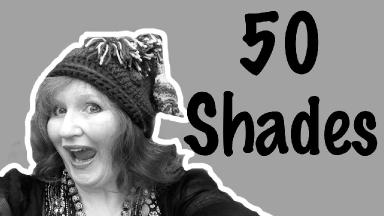 Acrylic Painting class on Gray Scale and tonal study.
The Big art Quest Site www.theartsherpa.com
Deliberately Creative -Stephanie Bergeron Art Quest Binder :
http://bit.ly/1WxejLT
*** Acrylic Paint Colors ***
You will need
Two sheets of your acrylic paper.
A Black and white Print out of a Picture you love
Photo Credit Viacheslav
http://pmp-art.com/viacheslav/gallery
...
Gel medium and varnish- modge podge- or white glue
White paint
Black paint
This Acrylic techniques quest will cover how the gray scale can unlock the illusion of painting. By seeing Value and being able to mix it you can unlock a new level of creative expression.
Concepts we will explore and play with are black vs white and the 10 shades you need to see to paint
We will make a grayscale page for our Big Art Quest Books.
We will make a 5 color tonal study.
Quest: How to paint Grisaille. This is a video created for my questers to see how amazing these skills can be in art. Click
https://www.youtube.com/watch?v=0WrUl
...
Optional Mini Quest : Take the Color Test. Sometimes in art our brains just don't know how to see. The more you look at color the more you can see the shades and hues even when they are subtle. It is why artist never retire. We paint until the end. Also color blindness can affect how you paint BUT it should never stop you from painting.
http://www.xrite.com/hue-test
Explain the difference between tonalist work and colorist work and how that is super useful to the everyday artist.
What is a grayscale it is a range of gray shades from white to black, as used in a monochrome display or printout.
Can monochromatic be a color ? Yes it can you can create Scales featuring a color.
Hue, Tint, Tone and Shade
You might have noticed that black and white are not colors on the color wheel are they being slighted or is there a plan
Tints are created when you add white to any hue on the color wheel. This will lighten the hue and is useful in things like atmospheric perspective
Tones are created when you add both black and white to a hue. Grey has been added and or A complimentary color. Like Sienna to a blue
Shades are created when only black is added to a hue. This results in a rich deeper colors
You will need
How limiting your palette can create WILD art. Grayscale painting tutorial is not just for digital art in fact artists are the OG of the monochromatic world. Monochromatic painting can teach artists powerful lessons about how light and color can create shapes in a composition. Painting in various shades of a single color can inform and improve your more advanced, color-rich work by helping you identify contrast versus relying on hue to build a piece. Seeing color like drawing is a skill!!
My favorite Brush is Goldilocks or Simply Simmons bright
#10
Extra Firm Filament
255341010
*** Other Supplies ***
Paper towels
Water cup
Chalk, a few colors
Ruler
Sharpie
Table easel
Delicious snack or beverage
A smile!
Have fun Live with The Art Sherpa during this BEGINNER HOW TO PAINT art lesson in acrylic art tutorial. This is an easy, fun, social art lesson for canvas. We talk about art and other fun subjects. With help and guidance, anyone can paint. You can paint!
Want to see something? Just comment! Tell me what you'd like to paint, or what you want to know about art. This is YOUR art journey. Open your heart and access your art.
www.HARTPARTY.COM
TWITTER: @artsherpa
PINTEREST:
https://www.pinterest.com/cinnamoncooney
*** LOTS of pinnables!
FACEBOOK:
https://www.facebook.com/hartparty
INSTAGRAM:
https://instagram.com/theartsherpa
ETSY:
https://www.etsy.com/shop/hARTpARTY
to purchase original art by Cinnamon Cooney!
HEART MAIL:
The Art Sherpa
Ste 200 Box
#204
9490 fm 1960 Bypass Rd W
Humble, Texas 77338
Artwork is the property of Hart Party and The Art Sherpa it is intended for the personal enjoyment of the student and not commercial use. Contact us for commercial use policies.
For-profit businesses in the Painting Party industry may not use our tutorial/original painting design without a licensed or signed-use deal with Hart Party.
If you'd like to share our tutorial/original painting design with a church group, skilled nursing facility or other nonprofit interest, do get in touch. We have ideas, guides and a few fun little extras to make bringing the Art Sherpa to your community one big party. Let's collaborate!
This artwork is under copyright and is intended for the viewer's personal enjoyment.
If your paintings of my original design are offered for sale in a retail setting of any kind, please attribute 'Original design by Hart Party. www.theartsherpa.com'
Did you sell a painting of my original design via private sale? Congratulations and big art high fives!
Please, create no prints or mechanical reproductions of your paintings of my original design.