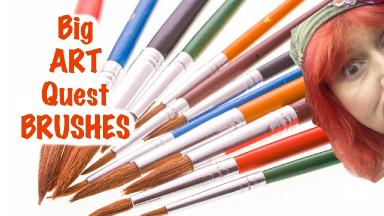 A fun look into acrylic brushes. How to buy them and what they do. It is my goal at the end of this to have you feeling very comfortable with your brushes. Expensive is not always the best brush. Q and A all about brushes for acrylic artists .
The Big art Quest Site www.theartsherpa.com
Deliberately Creative -Stephanie Bergeron Art Quest Binder :
http://bit.ly/1WxejLTMy
favorite Brush is "Goldilocks" or Simply Simmons bright
#10
Extra Firm Filament
255341010
www.thebrushguys.com "theartsherpa" code for 5% off
This is for Simply Simmons numbers only
Bright 10-6-4 Filbert 10-6-4 You can add a 2 and a 12 if it is in budget. Round 6 and 4 micro mini pack if it is budget. 1/2 angle shader. The loose brushes should all be extra firm filament but the micros will not be.
How to wash your acrylic brush.
How to saved a brush with dried on paint.
Tips for brush buying.
Tips for brush care .
Types of paint brushes for acrylic ?
What kind of brushes for acrylic painting ?
best acrylic paint brushes for beginners!
best acrylic art brush brand ?!!
Your acrylic Brushes and your Acrylic pad of paper
*** Assorted Brushes for Acrylic Painting ***
Medium flick resistance, synthetic or natural fiber. Short FIRM Bristles and Short handle. Acrylic handle over wood and Synthetic fiber over natural . The width description WILL NOT be on the brushes. It is a visual Guide only. They use numbers but the numbers are different from brush brand to brush brand so this will help you buy by eye.
Bright 1" ½" ¼"
Filbert 1" ½"
Detail round - medium- and fine
½ shader
I generally paint with Simply Simmons , Creative Mark, Ebony Splendor and Pro Stroke brushes. I also use some Windsor Newton and Ruby Satin Silver
My favorite Brush is " Goldilocks" or Simply Simmons bright
#10
Extra Firm Filament
255341010
Mini Quest : Go into an art Store feel all the brushes
Optional Quest : Take a picture of your brush living a secret life and post it online
#bigartquest
*** Other Supplies ***
Paper towels
Water cup
Chalk, a few colors
Ruler
Sharpie
Table easel
Delicious snack or beverage
A smile!
Have fun Live with The Art Sherpa during this BEGINNER HOW TO PAINT art lesson in acrylic art tutorial. This is an easy, fun, social art lesson for canvas. We talk about art and other fun subjects. With help and guidance, anyone can paint. You can paint!
Want to see something? Just comment! Tell me what you'd like to paint, or what you want to know about art. This is YOUR art journey. Open your heart and access your art.
Acrylics are a fun and enjoyable painting medium. I prefer 'Creative Mark' brushes, and I use Liquitex heavy body acrylic paint, Matisse Derivan, and golden colors.
I love teaching people to paint in a supportive environment. Everyone deserves to have art in their lives and feel the joy that art can bring! Follow along and share your art journey with me! I look forward to hearing from you.
www.HARTPARTY.COM
TWITTER:
@artsherpa
PINTEREST:
https://www.pinterest.com/cinnamoncooney
*** LOTS of pinnables!
FACEBOOK:
https://www.facebook.com/hartparty
INSTAGRAM:
https://instagram.com/theartsherpa
ETSY:
https://www.etsy.com/shop/hARTpARTY
to purchase original art by Cinnamon Cooney!
HEART MAIL:
The Art Sherpa
Ste 200 Box
#204
9490 fm 1960 Bypass Rd W
Humble, Texas 77338
Tags