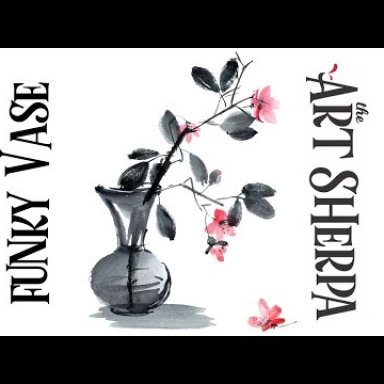 Traceables
Be the Stroke Beginners learn to paint full acrylic art lesson with a watercolor style of flowers in a vase. Community Vote winner. Live streaming art class Sakura flowers and leaves in vase fully guided by the Art Sherpa Traceable and Reference: https://theartsherpa.com/tas180210.01
The Four Gentlemen refers to four subjects that most painting students learn first because they include all of the basic strokes. They also represent the four seasons: • Bamboo – Summer - symbol of endurance and flexibility • Chrysanthemum - Fall - symbol of strength and perseverance • Plum the first flower to break winter's hold- Winter - symbol of the joy of renewal and the promise of life. • Orchid - Spring - symbol of the bright promise of beauty.
Traditionally your materials would be the Four Treasures - 
THE FOUR TREASURES (East Asian Painting Tools) The tools which are essential are called the Four Treasures. These are the ink stick, ink stone, brush and paper.
Your 4 Treasures are -the paint- the Brush - the Canvas and You  
SUMI-E is the Japanese word for Black Ink Painting. East Asian Painting and writing developed together in ancient China using the same materials —brush and ink on paper. Emphasis is placed on the beauty of each individual stroke of the brush.
You must be the Stroke 
Below are a list of materials. The links go through our Amazon Affiliate program, and you support The Art Sherpa when using them. These are link to make thing easy and convenient. *** Acrylic Paint Colors ***
Quinacridone Magenta: http://amzn.to/1P8CRkB Mars Black: http://amzn.to/1U1eqOw Titanium White: http://amzn.to/1XqooGI
11x14 Canvas board : http://amzn.to/2m1uPI0 22.86 X 30.48 cm OR
Peel Pallet Paper peel : http://amzn.to/2tj0SlQ
MY EASEL Best European Easel *OS3 http://amzn.to/1Xm9Ieu Jack Richeson La Vara Easel, Table Top http://amzn.to/2audtKw
*** Assorted Brushes for Acrylic Painting ***
I am in a Partnership with Silver Brush
For Brush Care use, cleaning and for a list of Retailers that carry them GO TO
https://theartsherpa.com/brushes
Cats Tongue Brush #8#4 sa·ku·ra səˈko͝orə/ noun (especially in Japan) a flowering cherry tree. "many schools plant sakura on their grounds" cherry blossoms collectively. plural noun: sakura "when the sakura is at its peak, businesses vary their trading hours to give staff the time to enjoy hanami"
*** Other Supplies ***
Paper towels Water cup Chalk, a few colors Ruler Sharpie Table easel Delicious snack or beverage A smile! *** Other Supplies *** Paper towels Water cup Chalk, a few colors Ruler Sharpie Table easel Delicious snack or beverage A smile!
Have fun Live with The Art Sherpa during this BEGINNER HOW TO PAINT art lesson in acrylic art tutorial. This is an easy, fun, social art lesson for canvas. We talk about art and other fun subjects. With help and guidance, anyone can paint. You can paint!
Want to see something? Just comment! Tell me what you'd like to paint, or what you want to know about art. This is YOUR art journey. Open your heart and access your art.
HEART MAIL: The Art Sherpa 9490 fm 1960 RD W suite 200 Humble TX 77338
Artwork is the property of Cinnamon Cooney and The Art Sherpa LLC. and is intended for the personal enjoyment of the student. Did you sell a painting of my original design via private sale? Congratulations and big art high fives! If your paintings of my original design are offered for sale in a retail setting of any kind ( this includes online) , please attribute 'Original design by Cinnamon Cooney, The Art Sherpa. www.theartsherpa.com' Please, create no prints or mechanical reproductions of your paintings of my original design.
For commercial use or licensing in the painting party, social painting, or other venues; please visit our business website:
If you'd like to share our tutorial/original painting design with a church group, skilled nursing facility or other nonprofit interest, do get in touch. We have ideas, guides and a few fun little extras to make bringing the Art Sherpa to your community one big party. Let's collaborate!