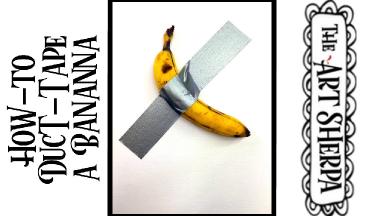 Traceables:
EASY How to make a Duct Tape a Banana Concept Art piece in the style of Maurizio Cattelan, with step by step made simple enough for new artists.
The Joker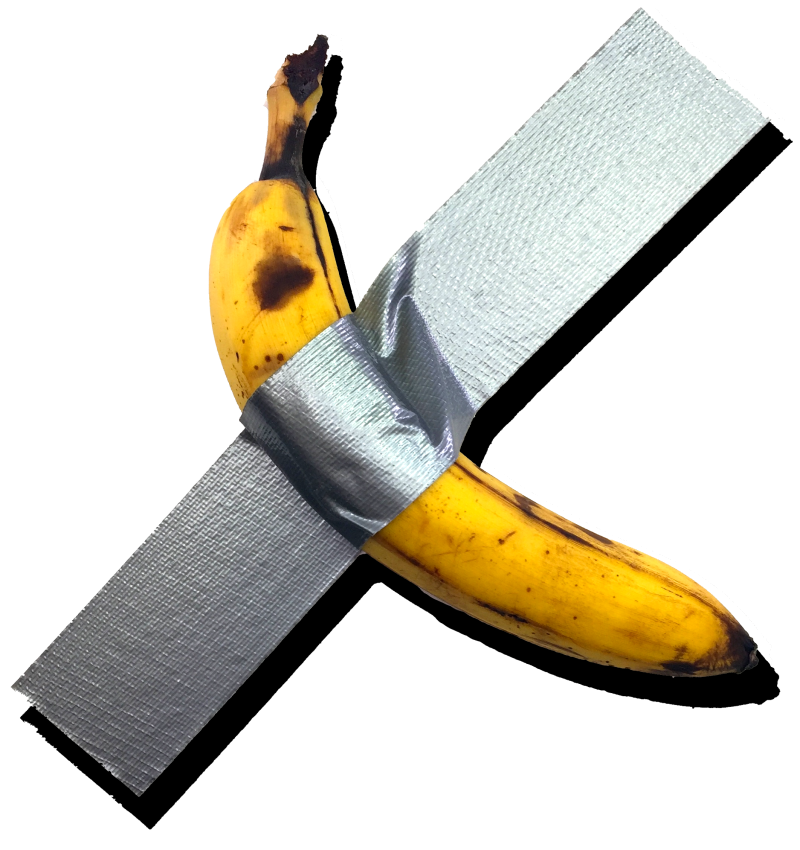 MERCH: https://teespring.com/duct-tape-banana-concept-art?pid=212&cid=5818 🍌🍌🍌
Maurizio Cattelan created his first work in 15 years, December 4th, for Art Basel in Miami.
A French collector paid $120,000 to the Perrotin Gallery for this performance work titled " The Comedian" by the controversial, polarizing artist Maurizio . A second edition was placed with another French collector, selling for the same price just two hours and 15 minutes later. 1 more edition of this installation is to be selling for an increased price of 150,000 as well. There are also two artists proofs of the work, only one of which is for sale.
#ducttape #Cattelan #ArtBaselMiami
Below is a list of Recommended materials. This includes Amazon Affiliate program, and you support The Art Sherpa when using them.
3M Multi-Use Duct Tape, 2930-C, 1.88 Inches by 30 Yards - https://amzn.to/2LykdvA
Organic Bananas, One Bunch (min. 5 ct) https://amzn.to/2Lsiw2r
Value Canvas Panels by Artist's Loft - 5 Pack (14" x 18")
https://amzn.to/2LtbD0Q Affiliate disclosure here http://bit.ly/affiliatedisclosureTAS
You may wonder if this is a hoax, but Emmanuel Perrotin denies any farce behind "The Comedian". Or Maurizio Cattelan intentions of his work. When asked if the piece was a joke he replied "Every aspect of the work was carefully considered, from the shape of the fruit, to the angle its been affixed with duct tape to the wall, to its placement in the booth—front and center, on a large wall that could have easily fit a much larger painting". Emmanuel Perrotin proclaimed
con·cep·tu·al art /kənˈsep(t)SH(əw)əl ärt/ noun art in which the idea presented by the artist is considered more important than the finished product, if there is one. In an artist statement
Cattelan states he has been working on the idea for Comedian for about a year, first creating versions in bronze and resin. "Wherever I was traveling I had this banana on the wall. I couldn't figure out how to finish it," Cattelan told Sarah Cascone "In the end, one day I woke up and I said 'the banana is supposed to be a banana.'" The Artist told Sara that he was inspired by many of the large works he has been seeing in Miami. "I'm not in Miami, but I'm sure it's full of paintings as well," said Cattelan. "I thought maybe a banana could be a good contribution!" The artist and the gallerist took great time determining the price, balancing an amount that was high enough to make it art but not so outlandish as to be discounted You may recall Cattalen's 24 Golden Toilet valued at 6 million dollars being stolen, and you may wonder if this new art at risk? Sarah Cascone reports that " Despite the artwork's hefty price tag, Perrotin isn't worried about someone stealing Comedian. There's a spare banana on hand in the booth, and more importantly, without the artist's certificate of authenticity, it reverts to being just a banana. In a way, explained Perrotin, securing a buyer for the piece completed the artwork. "A work like that," he said, "if you don't sell the work, it's not a work of art."- https://news.artnet.com/market/maurizio-cattelan-banana-art-basel-miami-beach-1722516
How to use a Traceable
The LIVE STREAM
Our Exciting news is that " The Joker" From the Step by step Video on The Art Sherpa  has been sold into private collection. The collector does not wish to be named at this moment but asked us to create a pubic installation so that the community and world can enjoy this work. We are allowed to say the piece sold in the 5 figures ( yes for real) and will be on living display housed at The Art sherpa Retreat Channel as a Live streaming public work of art. As conceptual puristists we will not alter the banana as it Transitions and deconstructs through time. You may come by and Watch the banana to calming music 24 hours a day.  
MAIL :
The Art Sherpa 9490 fm 1960 RD W suite 200 Humble TX 77338 SUPPORT@THEARTSHERPA.COM Artwork is the property of Cinnamon Cooney and The Art Sherpa LLC. and is intended for the personal enjoyment of the student. You may sell, donate or Gift a painting you do following one of my lessons in a private setting. If a paintings you make of my original design are offered for sale in a retail setting of any kind ( this includes online) , please attribute 'Original design by Cinnamon Cooney, The Art Sherpa. www.theartsherpa.com' Please, create no prints or mechanical reproductions of your paintings of my original design. This is a violation of my copyright and use policy. Fan Art is always intended for education and personal enjoyment. If you'd like to share our tutorial/original painting design with a church group, skilled nursing facility or other nonprofit interest, do get in touch with Labs we can help you For commercial use or licensing in the painting party, social painting, or other venues; please visit our business website: EMAIL LABS@THEARTSHERPA.COM https://theartsherpa.com/labs
Tags