2018-10-17
By: Kimberley A. K. Mayberry
Posted in: Your Art and Blogs Have you ever wanted to paint with me in person? Do you like Pinterest? ME TOO! Have you heard about the Pinners Conference? I will be at the Pinners Conference in Utah on November 2-3 and in Arizona on November 9-10. During the event you get a chance to purchase our first art box kit. This is going to be so different for us but I am excited to see what you think. Everything that is included in the box and all the details about the event are included below.
The Pinners Kit Will Include:
This kit is over a $200 value for just a $100! 
All appropriate sales tax will be added to the purchase price.
This kit is ONLY available at the conference. NO EARLY SALES AVAILABLE!  
Professional Acrylic Paint Mixing Set By Artist's Loft™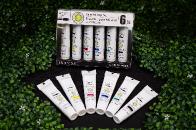 Full sizes of
Titanium White
Yellow Medium Azo
Quinacridone Magenta
Phthalo Blue (green shade)
Phthalo Green (blue shade)
Carbon Black
The Art Sherpa Cats Tongue #8
Canvas Panel 9x12 Pack
Table Top Easel
The Art Sherpa Paint Water Cup
The Art Sherpa LED Fan
The Art Sherpa Apron
Laminated Step by Step print out with tips.
USB Flash Drive - With full video recording step by steps of the class plus bonus projects that use the same materials in the kit!
Classes will only be an hour in duration. This does not allow us to teach the full painting, but we will be doing a demo of the painting and you may follow along. The  USB Drive included in your kit has all the instructions to complete the class painting and bonus painting.  Also included in your kit is a step by step guide with instructions for completing the paintings from start to finish.  Please come early to the class so you have time to purchase your kit and set up before the class starts, if you would like to follow along with the demo.
Instructions for purchasing a ticket online"
1. When on a computer, purchase a ticket that entitles you to one or more classes. Once this is done, you will receive an email with a link to schedule classes.
2. Follow the link to schedule classes and for Utah, pre-register for the Boho Snowman Class on Saturday 10AM Room 1. There is no additional charge for this, it reserves a spot for you to attend.
3. Once you have pre-registered, go to look at your schedule / review schedule. 
4. You will see a link there to click on to Purchase the Kit. Click on the link!
Click here for Link to Pinners Utah Information
Utah - November 2-3, 2018
Mountain America Expo Center - Fri 10am - 8pm & Sat 9am - 7pm
Paint with me on Saturday at 10 am (Demo)
Click here for Link to Pinners Arizona Information
Arizona - November 9-10, 2018
West World of Scottsdale - Fri 10am - 8pm & Sat 9am - 7pm
Paint with me on Friday at 3:30 pm (Demo)