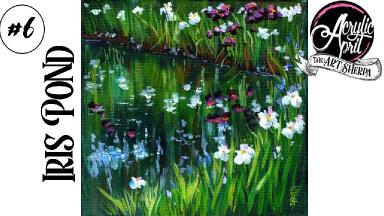 Traceables:
Step By Step

Larger View
Easy Iris flowers reflecting in a pond Daily Painting Beginner Acrylic painting step by step lesson for new artists Fully guided YOU CAN PAINT THIS with The Art Sherpa 🎨 👩‍🎤 Hoots : 🦉🦉
00:00     Intro
03:20     Step 1   Colored Ground
06:45     Step 2   Block in Shape of Landscape
11:50     Step 3   Distant Greenery and Reflections
17:55     Step 4   Rough in Water  
31:40     Step 5   Detailing the Far Bank
42:10     Step 6   Faraway Flowers, Mirroring Reflections
53:30     Step 7  Some Focal Flowers
1:02:00  Step 8   Foreground Grass
1:13:00  Step 9   Foreground Flowers
1:23:45  Step10  Final Details and Reflections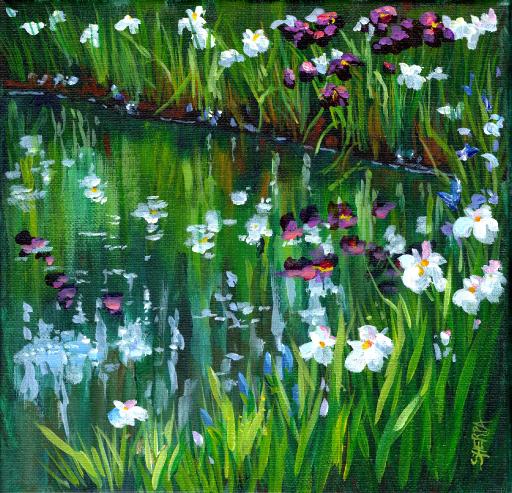 ✏️ 📖 Mini book, traceable, resources :
#6 Day Preshow : https://www.facebook.com/TheArtSherpa/videos/1328944684158296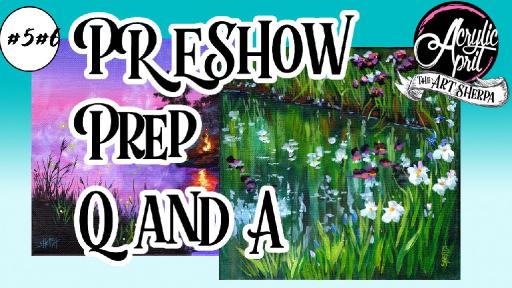 Cad Red Medium = CRM
Quinacridone Magenta = QM  
Cadmium Yellow Medium = CYM
Phthalo Blue = PB
Ultramarine Blue = UB
Phthalo Green = PG
Burnt Sienna = BS
Dioxazine Purple = DP
Mars Black = MB
Titanium White = TW
Materials  
The Art Sherpa =TAS 
Acrylic April = AA
 #26 Bright 
TAS # 4 Round Brush
TAS #8 Cats Tongue
½" Angle Brush or Round Brush
Dritz Tailor Chalk Tool and/or Chalk Pencil 
8 x 8 Canvas  (If you notice that your canvas started to warp, as sometimes happens, just turn the canvas over and put it back side forward on your easel, then mist the back of the canvas.  It usually resolves itself.  Let dry before you proceed.)  
Optional:  Masterson StaWet Palette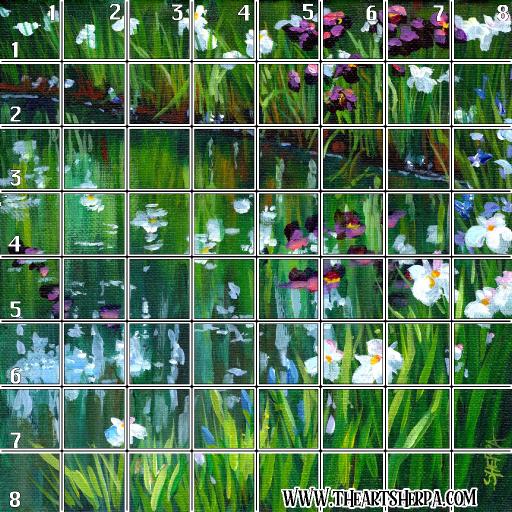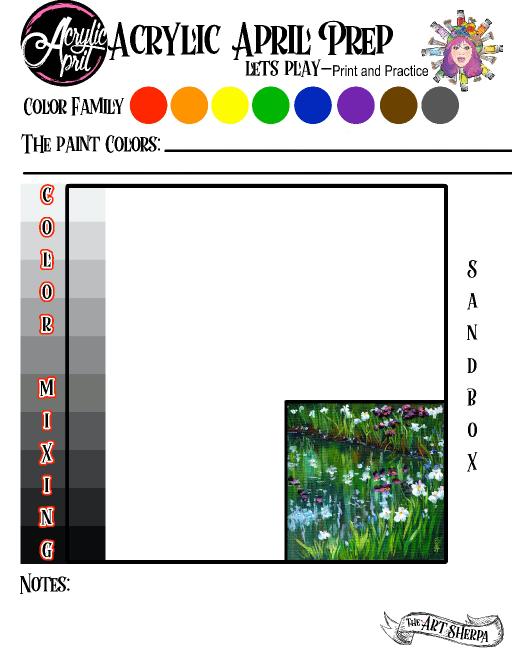 You may do like to go back and review:
Studio Setup - 
How I mix Color - 
How to succeed at Daily Painting Tips and Strategies Acrylic April
| TheArtSherpa
Acrylic April 2019 - https://youtube.com/playlist?list=PLXUkNk1HRolGPD9oyuDpBR8JsXUUYMDU-
Acrylic April 2020 - https://youtube.com/playlist?list=PLXUkNk1HRolHj3z9B2nFDCI9RGVuGpsH2
Acrylic April 2021
https://youtube.com/playlist?list=PLXUkNk1HRolHTcK2EFcmNNrmQgItbdT9p
⭐️    Subscribe: http://bit.ly/TheArtSherpaSub
  Check out my TopVideos! http://bit.ly/TheArtSherpaTopVideos
  Check out my Upcoming Live streams http://bit.ly/UpcomingLiveStream
👩‍🎤 Follow The Art Sherpa 
Website: https://theartsherpa.com/
Facebook: https://www.facebook.com/TheArtSherpa/
Instagram: https://www.instagram.com/theartsherpa
Pinterest: https://www.pinterest.com/cinnamoncooney/
Art Sherpa Merch : https://theartsherpa.com/store
#TheArtSherpa #AcrylicApril2021  #AcrylicPainting 
PLEASE note there are many other places to buy materials and I support you shopping and finding your best deal. 
  Please let me know if a link is broken. support@theartsherpa.com
About The Art Sherpa:
  Artwork and video is the sole property of The Art Sherpa™  and intended for the students personal education and Enjoyment. For questions regarding using any Art Sherpa painting in a commercial setting contact us  labs@theartsherpa.com for all other questions support@theartsherpa.com 
Read our full  disclosure here that covers partnerships and affiliate links http://bit.ly/affiliatedisclosureTAS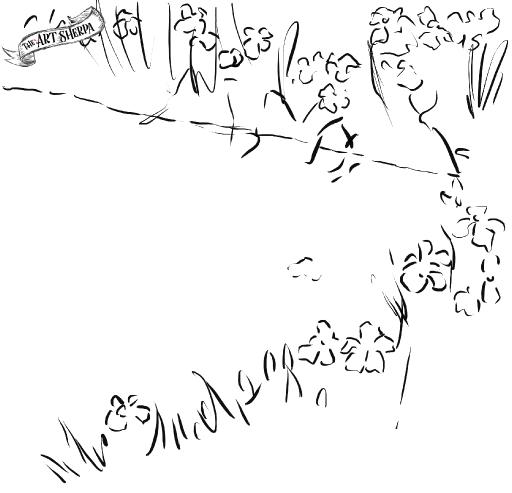 Tags