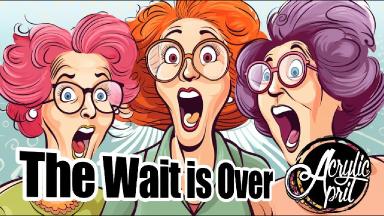 ACRYLIC APRIL 2023 Lets Get Ready to PAINT. How to prep for the 30 day painting challenge
What the theme is , what materials you need and an open Q and A for all your Acrylic April 2023 questions
✏️ 📖 FREE Student resources : www.theartsherpa.com
OPENING SAT March 18th 2023
https://store.theartsherpa.com/
*** Acrylic Paint Colors ***
🎨 🎨 🎨 🎨 🎨 🎨 🎨
💛 Cadmium Yellow Medium
💛 Lemon Yellow Hansa
❤️ Cadmium Red medium
❤️ Quinacridone Magenta
💙 Phthalo Blue Green shade
💙 Ultramarine blue
💚 Phthalo Green Blue shade
💜 Dioxazine Purple
💩 Burnt Sienna
☁️ Titanium white
🖤 Mars black
.
🖼 CANVAS
8x8
🖍 OTHER TOOLS
Sta-wet palette on show
Dritz chalk tool
T Square Ruler
Golden Glazing Liquid For Blending
Artist Tape
Brushes -
Please use these brushes as a guide for what I intend to use. These are brushes I use a lot. It is not necessary to have the exact brand of brushes that I use. The brands are D'Artigny Raphael brush, Simply Simmons Extra Firm, Princeton Catalyst and Select - When a brush is called a Hog Brush, it means it uses natural Hog Bristles
liner posca pen white and black 3mm
Artist Palette Knives will be used this year.
Synthetic Oval Mop 1"
Sythetic Filbert Small
Liner Brush
#1
or
#2
Synthetic Angle ¼ ½ 1"
Sythetic Round
#10
Hog Round
#20
#4
Artist Knife Diamond Head
Artist Knife Trowl
⭐️ Subscribe:
http://bit.ly/TheArtSherpaSub
🔥 Check out my TopVideos!
http://bit.ly/TheArtSherpaTopVideos
🔴 Check out my Upcoming Live streams
http://bit.ly/UpcomingLiveStream
👩‍🎤 Follow The Art Sherpa
Website:
https://theartsherpa.com/
Facebook:
https://www.facebook.com/TheArtSherpa/
Instagram:
https://www.instagram.com/theartsherpa
Pinterest:
https://www.pinterest.com/cinnamoncooney/
Art Sherpa Merch :
https://theartsherpa.com/store
#TheArtSherpa
#AcrylicPainting
PLEASE note there are many other places to buy materials and I support you shopping and finding your best deal.
💌 Please let me know if a link is broken. support@theartsherpa.com 💌
About The Art Sherpa:
💌 Artwork and video is the sole property of The Art Sherpa™ and intended for the students personal education and Enjoyment. For questions regarding using any Art Sherpa painting in a commercial setting contact us labs@theartsherpa.com for all other questions support@theartsherpa.com
Read our full disclosure here that covers partnerships and affiliate links
http://bit.ly/affiliatedisclosureTAS
💌
Tags