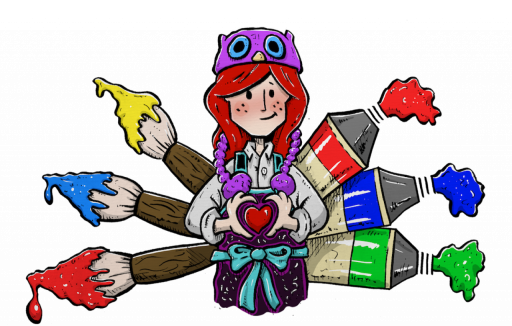 Stats
Member Since March 10, 2016
Love Given: 0
Posts: 3
The Painted Bird Hop - The Art Sherpa and Ginger Cook

2021-08-06
By: TheArtSherpa
Posted in: Painting Party From Home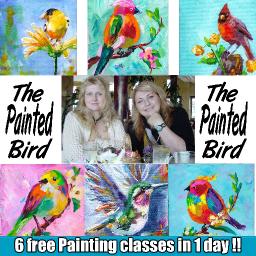 The Painted Bird Hop 
How to Hop - 
The Painted Bird Hop is hosted by Cinnamon Cooney, The Art Sherpa, and Ginger Cook and is a free multi painting afternoon journey of 6 fat cute birds that you can do on small canvases in a single sitting.  
On Friday, August 6th, starting at 1 pm, The Art Sherpa and Ginger Cook will take turns guiding you through an adorable happy bird painting journey. Paintings are being created on 6 by 6 canvases and will start one right after the other and last about 45 minutes each. All classes are designed for beginning to advanced acrylic painters, so join and watch from home while you paint along …… all for free, free, free.
Start the Hop by watching the Shows in Order listed below  
All classes in the Hop will be broadcast on YouTube (IN EASTERN TIME) at the following links:
Materials - 
Materials for all 6 paintings are provided below; - please note that not all birds will use all colors.
*** Acrylic Paint Colors ***
Cadmium Yellow Medium  
Yellow Oxide or Ochre    
Cadmium Red Medium    
Quinacridone Magenta    
Phthalo Blue Green Shade   
Phthalo  Green Blue Shade 
Dioxazine Purple 
Burnt Sienna    
Titanium White:   
Zinc / Transparent White
Mars Black (PBK) 
** GINGER will add some pop with these alternate colors - Holbein Heavy Body Artist Acrylic in Luminous Rose and Maude.  You can just use a bright pink and Dioxazine purple if you don't have her colors.  
CANVAS : 6x6
BRUSHES
Please use these as a suggested guide to help you.  These are brushes that we use most  often.  You do not need to have the exact brand of brushes. 
Angle brushes ¼ to ½ inch 
Round Brushes #4
Small round detail brushes on #00 or #1 
A Liner Brush
Dagger ⅜" 
Assorted bright brushes for Acrylic #6 - #8
Art Sherpa #8 Cats Tongue 
OTHER TOOLS- suggested not required 
Palette for paint
Cups of water
Towels for cleanup
Pencil White
T-Square or Ruler
Golden Glazing Liquid For Blending
Saral Paper
Artist Tape
Posca Pens
Art Auction - 
Bid for a chance to own an original signed painting from the show by The Art Sherpa or Ginger Cook -https://www.gingercookauction.com/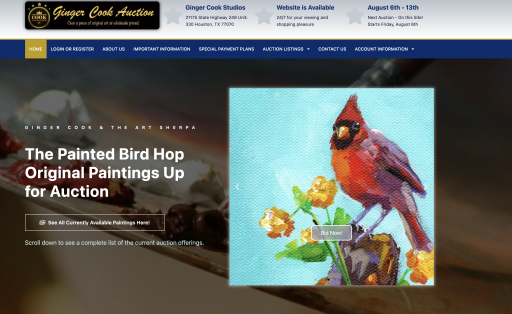 Acrylic on Canvas painted live in the show signed by each artist!! Bidding is starting at 1$!!!!
No reserve!!!
Signed Limited Edition Prints -
https://theartsherpa.com/store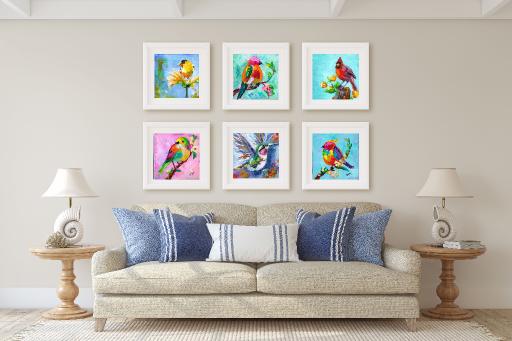 Don't Wait!
These one of a kind original Prints are only available to purchase until Aug 20th
Actual print size is 8x8 on 9x12 paper (No Frame Included)
Limited Run
Hand Signed and Numbered by the artist 
Certificate of Authenticity
Printed on Fabriano 300GSM White White Artist Paper
1200 DPI Laser Artist Print
ALL SALES CLOSE ON AUGUST 20th (2 weeks)
We ship to the US for free.
INTERNATIONAL SHIPPING PLEASE BE ADVISED
Actual International Postal Fees will be billed before shipment
Giveaway is closed. The winners are in Order of painting they won. Winners congrats please email support@theartsherpa.com so we can plan shipping  
Giveaway -
Enter for a chance to win 1 print themed to the Show you enter at. Must comment per contest rules after each video for a chance to win. See below for how to enter.
6 Chances to win ! Below is the Guidelines to The Art Sherpa Giveaway - Ginger Cooks Giveaway is posted on her videos linked below 
The Art Sherpa | 2:30 pm EDT -  
The Art Sherpa | 4:00 pm EDT -  
Signed Print giveaway --
What you can win 
1 limited edition signed print of the videos painting 
Actual print size is 8x8 on 9x12 paper

Limited Run

Hand Signed and Numbered by The Art Sherpa  

Certificate of Authenticity

Printed on Fabriano 300GSM White White Artist Paper

1200 DPI Laser Artist Print
Entry opens at the End of the Live Stream and Closes August 14, 8 am EDT
Winner will be announced during the Live stream :  
Winners  will be Announced  on The Painted Bird Blog
Winner must contact The Art Sherpa video email support@theartsherpa.com within 10 days of the announcement or be disqualified  
Rules  and How to enter : 
Leave a comment with a G rated Family friendly Dad Joke after the show with the #birdhop in the comment. The Joke is appreciated but optional. The comment with #birdhop is mandatory 
Rules 
Must be 18 to win 

Regional  rules and conditions apply 

Void where prohibited 

Only comments with

#birdhop

will qualify After the show in comment section 

No live comments will qualify 

Void where Covid has shut down shipping and delivery 

Void where postal delivery in not available

Entry for YouTube only  

No employee, moderator or family member is qualified to enter 
Disclaimer 
The giveaway is not affiliated with YouTube or any google product in any way.
Disclosure -
Your information will not be shared or used in any way other than to determine with winner. 
Winner will be chosen at Random by Random comment picker tool
WINNER : TBA 
Mugs -
Mugs -- The Celebrate the Painted Bird Hop mugs are Available at our TeeSpring Store for a Limited Time only. 
https://the-art-sherpa.creator-spring.com/
use the code TAS15 for 15% off 
Tags