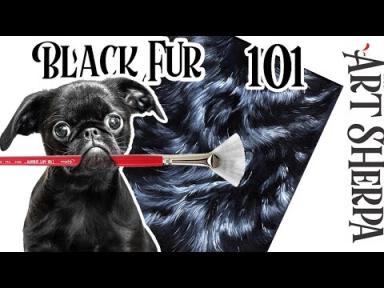 Learn all the basics about painting shiny Black Fur in acrylic in one fin fast video. I will show you the first thing you have to know, how to mix the colors in black fur, What brushes I love , what brush strokes to use and in 8 steps the layers it takes to make black fur for low lighting, day light and Bright lighting . big Art Quest 2021
. Everything is fully explained all the tip trick and techniques, multi Camera angles and fully explained so its easy to understand. YOU CAN PAINT THIS !! All Art lessons are brought to you by The Art Sherpa 🎨 👩‍🎤 You can join our Live stream chats daily to connect with other painters just like you.
Difficulty meter level in Hoots : 🦉
00:00 Adorable Dog opening
00:51 Is it Blue black or Brown black
01:37 how to mix fur color
04:33 What Brushes are best to use
06:35 Fur brush Strokes
11:11 Step 2 painting the Fur
11:30 Step 2 the darkest layer
11:57 Step 3 Brush the first grey in
12:36 Step 4 find the flow more greys
13:07 Step 5 replace and find new shadows
14:06 Step 6 Detailing the highlights
15:35 Step 7 The Highlight for regular Daylight
17:20 Step 8 Bright shine reflection and Details
20:26 What is next and The cutest Doggos
✏️ 📖 Mini book, traceable, resources : RELEASE DATE coming soon
Big Art Quest How to paint dogs 2021 :
Chapters
🎁 🛒 Below are a list of RECOMMENDED MATERIALS.
The Art Sherpa is a participant in the Amazon Services LLC Associates Program, As an Amazon Associate I earn from qualifying purchases.
*** Acrylic Paint Colors ***
🎨 🎨 🎨 🎨 🎨 🎨 🎨
💙 Ultramarine blue SENNELIER
https://amzn.to/2XtrzaM
☁️ Titanium white: SENNELIER
https://amzn.to/2WZw91d
🖤 Mars black: PBk 11 SENNELIER
https://amzn.to/2XxUqus
Fluid acrylic in white
.
🖼 CANVAS
8x10
Not a fan of Amazon ? My Teacher shopping list Dick Blick
https://www.dickblick.com/lists/blicku/0B4P6DL0JVY6D/publicview/
Brushes -
Brushes: Please use these as a guide of what I am planning to use. These are brushes I use very often. You do not need to have the exact brand of brushes that I use.
1" Bright synthetic brush
#10
Hog Bristle Bright
#2
Hog Bristle Fan
½ Grass Comb
1# detail round
Palette knife
Ways To Patron and support us
Join this channel to get access to perks:
https://www.youtube.com/channel/UCy0-9vYn94d3i-_PZ3RJn2A/join
Patron :
https://theartsherpa.com/patron
⭐️ Subscribe:
http://bit.ly/TheArtSherpaSub
🔥 Check out my TopVideos!
http://bit.ly/TheArtSherpaTopVideos
🔴 Check out my Upcoming Live streams
http://bit.ly/UpcomingLiveStream
👩‍🎤 Follow The Art Sherpa
Website:
https://theartsherpa.com/
Facebook:
https://www.facebook.com/TheArtSherpa/
Instagram:
https://www.instagram.com/theartsherpa
Pinterest:
https://www.pinterest.com/cinnamoncooney/
Art Sherpa Merch :
https://theartsherpa.com/store
#TheArtSherpa
#BigArtQuestDogs
#AcrylicPainting
PLEASE note there are many other places to buy materials and I support you shopping and finding your best deal.
💌 Please let me know if a link is broken. support@theartsherpa.com 💌
About The Art Sherpa:
💌 Artwork and video is the sole property of The Art Sherpa™ and intended for the students personal education and Enjoyment. For questions regarding using any Art Sherpa painting in a commercial setting contact us labs@theartsherpa.com for all other questions support@theartsherpa.com
Read our full disclosure here that covers partnerships and affiliate links
http://bit.ly/affiliatedisclosureTAS
💌
Tags