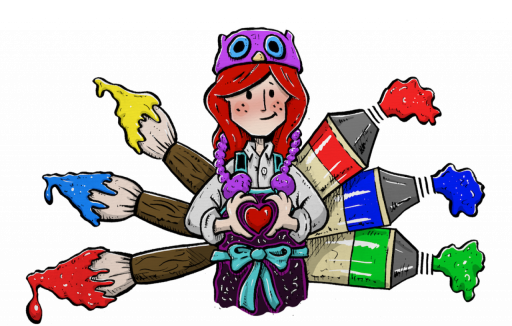 Stats
Member Since March 10, 2016
Love Given: 0
Posts: 4
Saturday September 11 2021, 2:00 PM
@ YouTube
Attendees: @Debra Traughber , @
EASY GRUMPY OWL | Beginners Acrylic Tutorial Step by Step . Easy social paint night in you can enjoy from the comfort of your own home keeping it fun. This is a Painting course for Beginners who want a real acrylic painting step by step tutorial about how to paint . Everything is 100% real time, multi Camera angles and fully explained so its easy to understand. YOU CAN PAINT THIS !!
The Painted Bird Hop is hosted by Cinnamon Cooney, The Art Sherpa, and Ginger Cook and is a free multi painting afternoon journey of 6 fat cute birds that you can do on small canvases in a single sitting.
On Saturday, Sept 11th, starting at 1 pm, The Art Sherpa and Ginger Cook will take turns guiding you through an adorable happy bird painting journey. Paintings are being created on 6x6 canvases and will start one right after the other and last about 50 minutes or less each. All classes are designed for beginning to advanced acrylic painters, so join and watch from home while you paint along …… all for free, free, free.
All classes in the Hop will be broadcast on YouTube (IN EASTERN TIME) at the following links:
The Art Sherpa | 1:00 pm EDT
Ginger Cook | 2:00 pm EDT
The Art Sherpa | 3:00 pm EDT
Ginger Cook | 4:00 pm EDT
The Art Sherpa | 5:00 pm EDT
Ginger Cook | 6:00 pm EDT
✏️ 📖 The Art Sherpa Mini book, traceable, resources:
Coming soon
Chapters :
AFTER the live show
Difficulty Meter Level in Hoots : 1 to 2 Hoot -🦉- all Beginner all age friendly
Materials Lists
for all 6 paintings are provided below; please note that not all birds will use all colors.
*** Acrylic Paint Colors ***
🎨 🎨 🎨 🎨 🎨 🎨 🎨
💛 Cadmium Yellow Medium
💛 Yellow Oxide or Ochre
❤️ Cadmium Red Medium
❤️ Quinacridone Magenta
💙 Phthalo Blue Green Shade
💙 Ultramarine Blue
💚 Phthalo Green Blue Shade
💜 Dioxazine Purple
💩 Burnt Sienna
☁️ Titanium White:
☁️ Zinc / Transparent White
🖤 Mars Black (PBk)
** GINGER will add some pop with these alternate colors - Holbein Heavy Body Artist Acrylic in Luminous Rose and Maude. You can just use a bright pink and dioxazine don't if you don't have her colors.
🖼 CANVAS : 6x6
🖌 BRUSHES
Please use these as a suggested guide to help you. These are brushes that we use most often. You do not need to have the exact brand of brushes.
Angle brushes ¼ to ½ inch
Round Brushes
#4
Small round detail brushes on
#00
or
#1
A Liner Brush
Assorted bright brushes for Acrylic
#6
-
#8
Art Sherpa
#8
Cats Tongue
🧰 OTHER TOOLS- suggested not required
Palette for paint
Cups of water
Towels for cleanup
Pencil White
T-Square or Ruler
Golden Glazing Liquid For Blending
Saral Paper
Artist Tape
Posca Pens
Ways To Patron and Support The Art Sherpa:
Join this channel to get access to perks:
https://www.youtube.com/channel/UCy0-9vYn94d3i-_PZ3RJn2A/join
Patron :
https://theartsherpa.com/patron
⭐️ Subscribe:
http://bit.ly/TheArtSherpaSub
🔥 Check out my TopVideos!
http://bit.ly/TheArtSherpaTopVideos
🔴 Check out my Upcoming Live streams
http://bit.ly/UpcomingLiveStream
👩‍🎤 Follow The Art Sherpa:
Website:
https://theartsherpa.com/
Facebook:
https://www.facebook.com/TheArtSherpa/
Instagram:
https://www.instagram.com/theartsherpa
Pinterest:
https://www.pinterest.com/cinnamoncooney/
Art Sherpa Merch :
https://theartsherpa.com/store
#AcrylicPainting
#PaintedBirdHop
#TheArtSherpa
PLEASE note there are many other places to buy materials and I support you shopping and finding your best deal.
💌 Please let me know if a link is broken. support@theartsherpa.com 💌
About The Art Sherpa:
💌 Artwork and video is the sole property of The Art Sherpa™ and intended for the students personal education and Enjoyment. For questions regarding using any Art Sherpa painting in a commercial setting contact us labs@theartsherpa.com for all other questions support@theartsherpa.com
Read our full disclosure here that covers partnerships and affiliate links
http://bit.ly/affiliatedisclosureTAS
💌
#PaintedBirdHop
#THEARTSHERPA
#AcrylicPainting
Tags