Category: Staying Strong and healing art
By TheArtSherpa, 2019-01-07

#clutterquest Cleaning Quest All Week want to join me??!!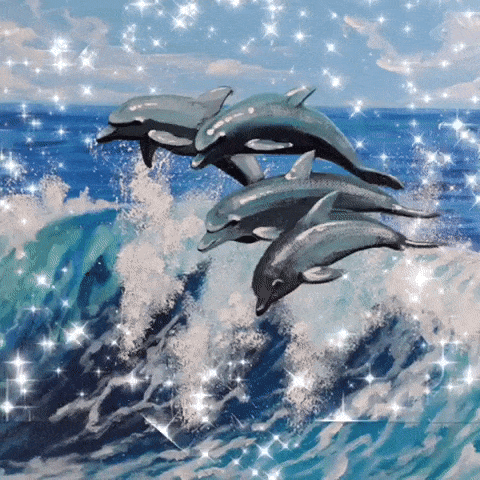 So one of the biggest challenges for me is Mess and clutter. When I am in clutter it slows me down, makes it harder for me to think and I can't get things done. The studio and I are going to tangle today and when I am done not only will I find that missing bag of zinc white paint. BUT I will be unblocked from my Creative process. Group mini quest for you this week is to look at your art space this week and straighten up, re-organize to improve your flow, do anything that unblocks your creative process and makes your creative space the sancuary for inspiration is should be. 2019 is the year where I make my space a retreat for creativity and get the rest of the glam studio awesome done. Share pictures of your triumph over clutter all week. #clutterquest Need help to find your way through. Marie Kondo !! My friend the Frugal Crafter swears she us the BEST!!! Check out the new show on Netflix
Tidying up with Marie Kondo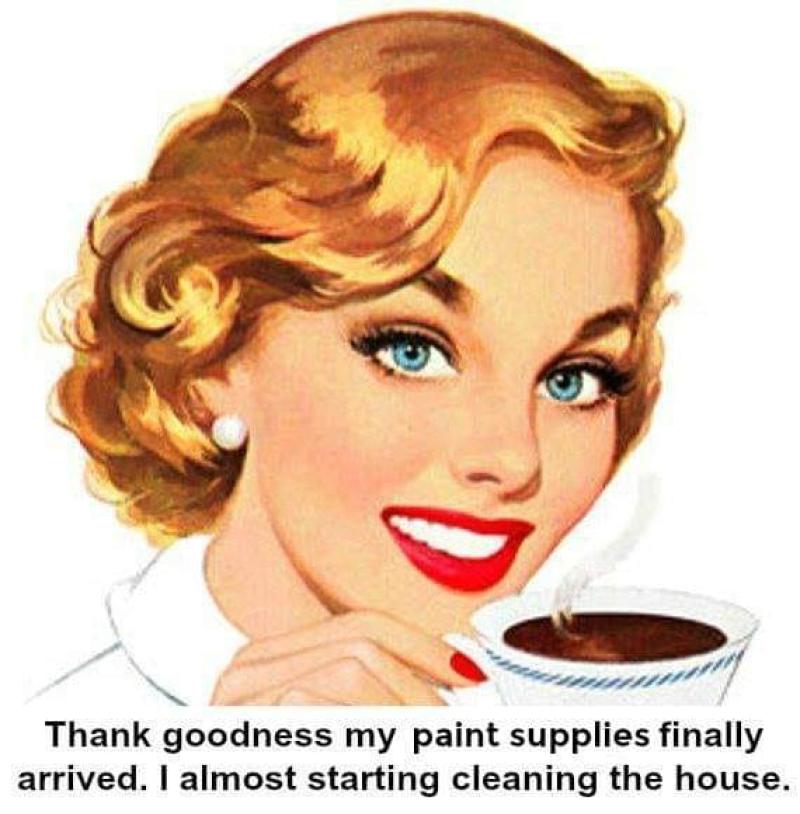 By Kimberley A. K. Mayberry, 2018-10-27 Hello everyone!
Fantastic news! Life Book 2019 is now open for registration! I'm so excited to be part of this amazing year long course. I can't wait to share my lessons with you! :)
I know many of you already know what Life Book is all about, so if you can't wait to sign up, make sure to click here to get your seat, Yay! See you there! :) PS. Be sure to use this coupon code to get your 20% off early bird price!! (valid until end of December 2018): LOVEBOMB2019 To find out a bit more about Life book, click here: Life Book 2019
"Life Book, a celebration and honoring of YOU" is a year-long mixed media art class organized by Tamara Laporte from Willowing Arts.
Tam is joined by 32 incredible Artists, Crafters and Healers who are all gearing up to share their mixed media techniques, tips and tricks with YOU! Life Book continues its bigger and better format this year by including a variety of fantastic artists and wellness guides who will focus on additional personal development practices and other art disciplines, like art doll making, basket weaving and sacred bowl making! Themed around self-development and healing, you'll be creating several loose mixed media art journal pages per month which by the end of the year you will bind into a glorious journal (a Life Book)! You will have a wonderful keepsake that you can treasure for the rest of your life! You will also be introduced to yoga, aromatherapy, mindfulness and other wellness exercises to help support your personal development journey more holistically. Life Book is all about making you and the world happier. Through creating art, we will be creating a deeper understanding of ourselves, and creating a connection with each other. It's all there, in one big affordable package! It has served thousands of people from all over the world over the past 7 years. It's been wildly popular!
I hope that many of you will join us on this fabulous journey (over 20,000+ people have joined Life Book since its inception, amazing!). Imagine a year of weekly art lessons, inspiration, encouragement and a safe group of like minded artsy people. and YOU all together making art, growing and developing your skills and soul; while being guided by some of the most talented artists and wellness experts out there!
And the best thing about it all is that you get 85+ offerings throughout the one year for ONLY £99GBP (approx $130 USD)! The course/ content is valued at well over $3000+ USD - so you'd join it for only a fraction of the price! Whaaaat? :)
I haven't fully developed my class idea yet, but I'm excited to be sharing how we can paint with wild colors to create EASY expressive paintings like I did with splashy Dog Days of Summer here.  It's great to be brave and spread your wings. I also will be sharing a great bonus project. I hope to see you there! By TheArtSherpa, 2018-07-30
" When it rains – look for the rainbows – when it's dark, look for the stars. "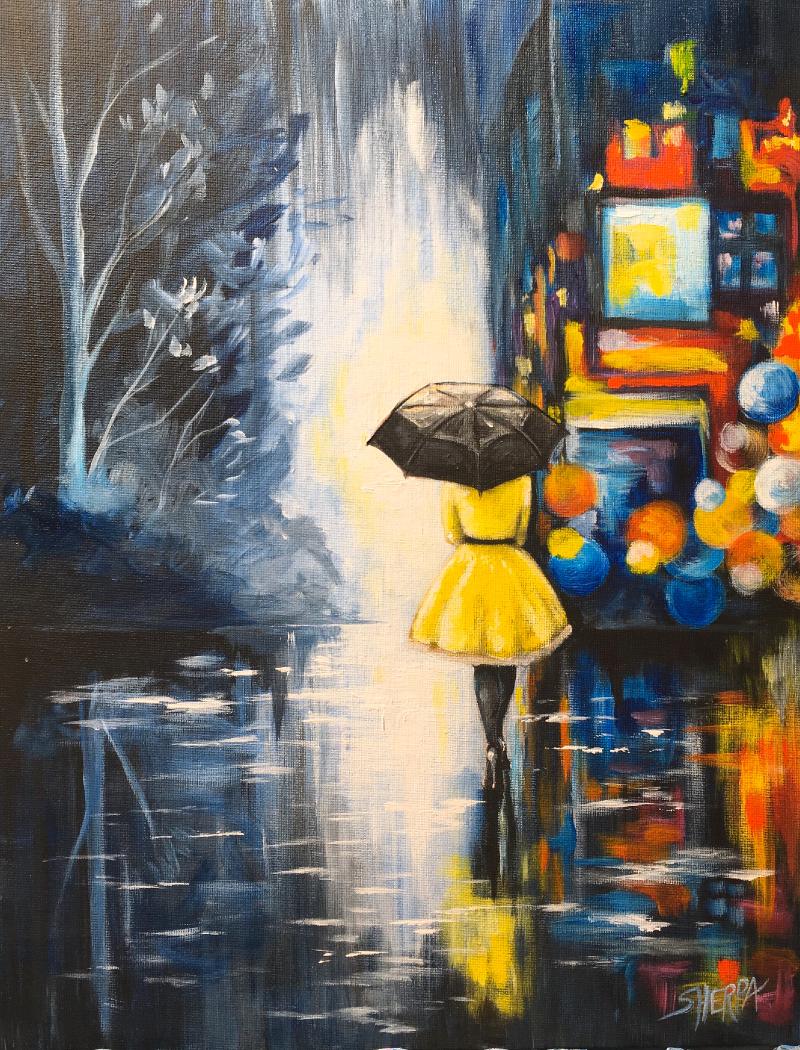 I adore this humble yet mindful  little quote. Looking on the bright side of things is about finding the resilience to see the possibilities when others see the worst.  The opportunities in situations others find soul crushing. That is why I have been painting Umbrella girls. They became my symbol of hope when all was hope had been lost.
When all Hope is Lost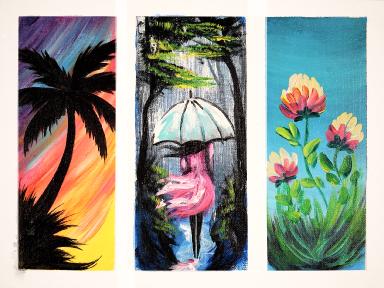 My husband had nearly died, we lost everything we had worked so hard for, and even found ourselves with a newborn having to exit under the worst possible circumstances.  WE had to sell everything we owned. My art studio, Johns tools, A bunch of our art, and even many of the larger kids toys then would not fit in the trailer we could afford too rent. I remember this lady who was hired to help us sell our things letting her kids drive around in my son and daughters Barbie cars that their grandmother had gotten them one particularly magical Christmas two years before. Play all over the castle my mom and I had handpainted for my eldest. Screaming its MINE No its MINE while I tried to hide my tears and keep my kids from seeing their toys vanish. We had worked hard, been good kind  people and we had lost. I had though we had past that stage where a series of events could level us. But as many of you know it can happen to anyone. I left with my photo's, the documents and the family heirlooms we had been entrusted with. I had my husband thankfully still alive but still very ill  and depressed.
Optimism is the faith that leads to achievement. Nothing can be done without hope and confidence.
Helen Keller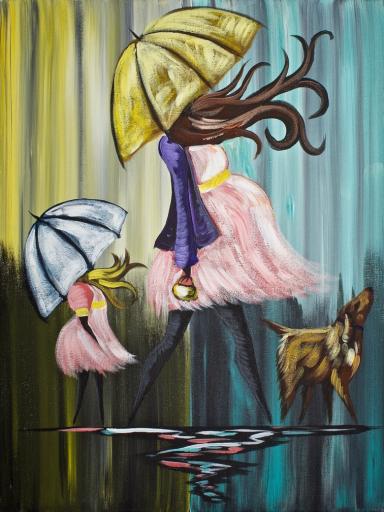 So  I ended up driving the 4,090.6 km to Houston , nursing my two month old, all the way back to Texas.  I am the girl who never gave up. Who rode a 12 hand high pony to national recognition against full grown horses and adults. I am NOT giving up on this road. I plotted a course and made us get the geocaching stuff out. We looked at all the tourist stops, cached all kinds of adventures and found our way back to Texas almost like my family. Almost like myself.
All that I am, or hope to be, I owe to my Angel mother.
Abraham Lincoln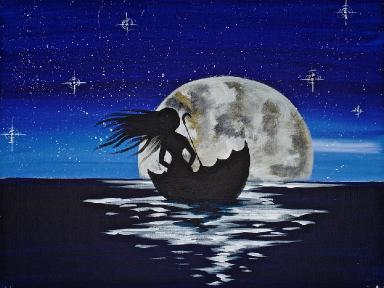 BUT I have no paint !!! I have no canvases and really I am heart broken. But I am not willing to give up.I don't even know why I was so determined. But I expect it's those things that keep mothers going. My husband and my kids and needing to show them that things were going to be OK. I honestly was it a time in my life I didn't know If I would ever paint again. Was I ready to start over.?! But as I got back into the swing of things at the request of my mother. Many of you know how she got me into painting parties as a way to get me out of the house. I started bringing the paint home and the canvas's home. And just like it's always been my art was there for me to see me through my hardest times. There were owls and sunflowers by van Gogh.
I can't just make a song people can dance in a club to... it still has to be real.
Mary J. Blige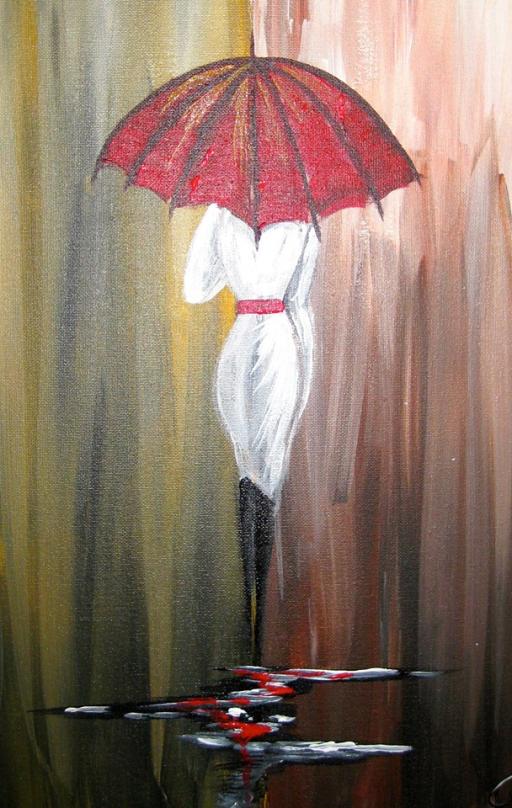 And I managed to get a 30 x 40 canvas that was gifted to me so that I could sell a painting. I mean that's what I know....Art.  So I just took all that feeling and hurt and fear and I matched it up with my results and determination to see a better future. And I painted my first girl in the rain. And we hung it on the wall. People LOVED her.  Two very important things happened I realized I could not sell her and I realized we needed to have a lesson on it. So I did an umbrella girl tight skirt good figure to tone streaky background for the rain. And not to be funny but she made a splash . See because she came from something real,  something authentic , honest , and true it's spoke to people who saw her!
Rain is grace; rain is the sky descending to the earth; without rain, there would be no life.
John Updike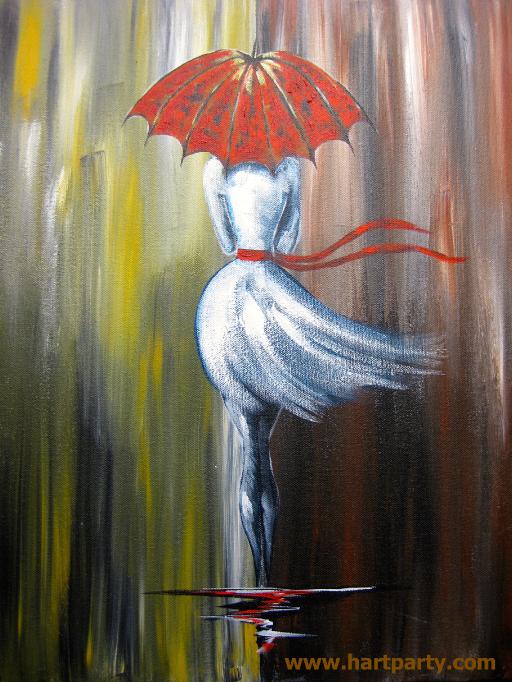 Because they been through the rain to and they wanted to see rainbows and they wanted to see stars. As you know since this is become a huge trend and I'm really honored to of been a small part of creating it. Back in 2011 and 2012 there would have been no way to know that owls and Umbrella Girls would be so huge.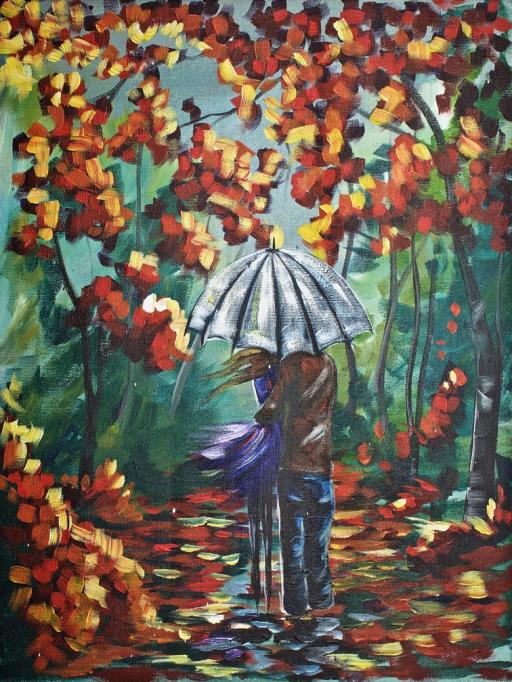 The way that owls and girls in the rain came from such a real place in me it's how we should be as artists. But for me that first painting was the seminal moment when I remembered who I was. By now I have a collection of girls in the rain. Lessons and designs. My original girl ended up being gifted to woman I met name Sharron. She had survived a terrible assault and being set on fire as a young woman. She had seen her son murdered in front of her. Yet she was one of the strongest most hopeful people I ever met. And when she would look at that paining she would say that's me. That's how I got through. And I knew the paining had to be hers. I want her to have that in her life. And that's how artists Are We generally see more than the money  or the likes and follows. Because they're real stories behind our art. What I paint is true for me even when it seems like a  simple trend.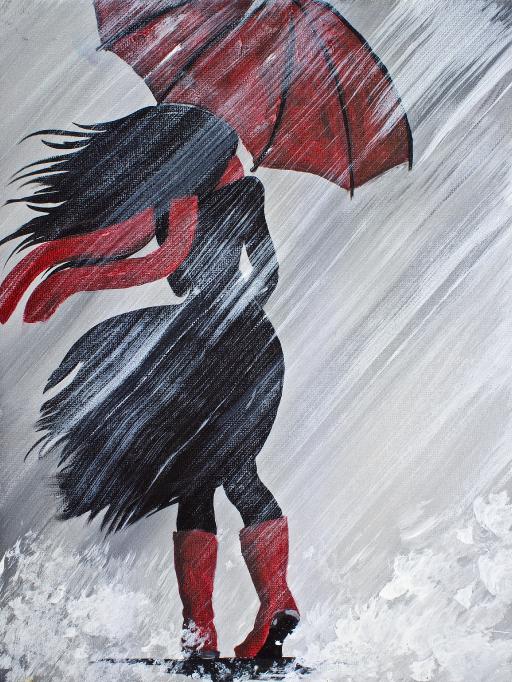 There is this lesson in the rain and in the dark. You have to make a decision about who you are in relationship to these things. Was I the perspective of  possibility?  When people paint my girls in the rain I'm hoping that some of what I got out of that journey, some of what it took me to survive and see through and find my positive future gets into them. Everything I do is so much more than my YouTube channel or my Instagram account or my Facebook. It's real. The rain is real. But the umbrella is real to. This wasn't just a streaky background I had put in a corridor of light to show the possible Future.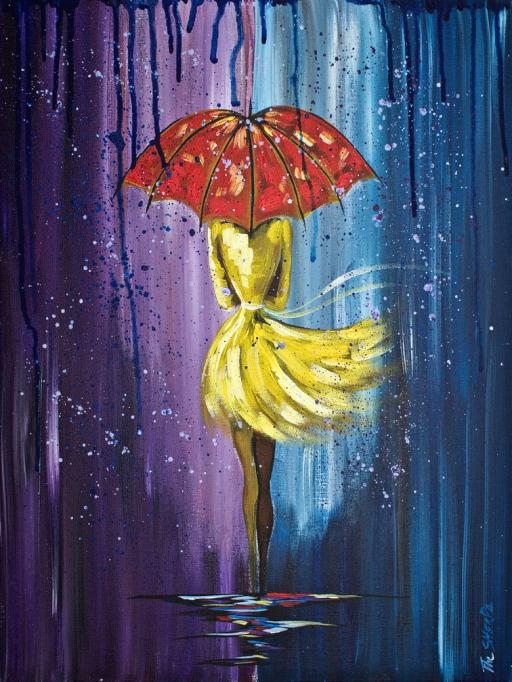 I think a lot about what happens to people that paint with me and the images I put in front of them in if I'm going to be leaving them stronger emotionally?  More than that to Tutorial to me  I guess it's a lighthouse. All these paintings even after I'm gone will be in the world helping some other person  back to her personal power. Some family Back into health and Joy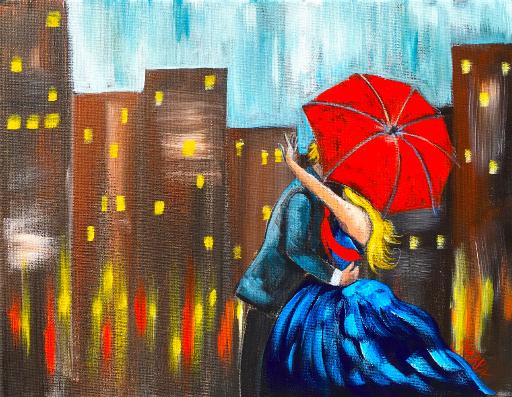 I've learned some things about myself. I'm tougher than I knew. I can face the storm and everything that comes for me and I will find the rainbow at the end of it. But even more than that I want to help other people behind me find that path through their personal storm. So when you do one of my tutorials know this is more than painting. This is more than views or legs or social media. This is you and me having a conversation about how strong you can be. About that you can get through your personal storm and find your rainbow at the end of it. I want to thank everyone of you for your time and your courage.